About us
Nudmuses is a Polish brand that offers cosmetics rich in ingredients of natural origin. We strive to ensure that our products combine a comprehensive action with an extraordinary pleasure of use.
Our cosmetics moisturize, nourish, provide comfort, and give a rejuvenating effect.
We focus on creating products that combine nature and science to provide your skin with comprehensive skin care therapy. Each line is thoughtfully designed and consists of complementary products whose active ingredients complement each other to improve the condition and appearance of your skin and give it serenity and harmony.
We believe in a holistic approach to skincare that remembers that its condition depends not only on external factors but also on your inner world. In line with our beliefs, we strive to make our cosmetics the perfect combination of nature and science to support the healthy appearance and balance of your skin.
Our daily skincare should be simple and orderly, and the products with their ease and pleasure of application should encourage regularity, which is the key to long-lasting results.
NATURE INSPIRES, SCIENCE CREATES
Nature inspires us, but it is the science that allows us to create our cosmetics. The products we offer are based on active ingredients derived from nature. Nudmuses combine the power of nature with the creative force of science so that our formulas deliver on their promises.
In the search for effective formulas, nature is an invaluable source of ingredients for our products, and science allows us to fully extract their power. The action of our chosen ingredients is confirmed by research, thanks to which we know how individual substances affect the skin. This allows us to create unique formulas following the idea of holistic beauty.
Being a Polish cosmetics brand, we care about the quality of our products. When we look for ingredients for our cosmetics, we rely on available research on the effectiveness of a given raw material. Safety is also important to us, so we keep abreast of the work of the European Commission, among others, to have the most up-to-date opinions on the use of substances.
Let yourself be tempted by natural ingredients that will give your skin a radiant and healthy appearance. Explore our holistic care and feel the harmony between nature and science.
What is holistic skincare to us?
The statement holistic skincare is, in our interpretation, a concept that indicates that all elements in the human body affect each other in a specific way, so taking care of our skin should not be limited to the use of cosmetics. We should take holistic care of our body and mind also through, among other things, a healthy diet, the right amount of sleep, or physical activity. When creating our products, we follow a complete view of a given skin problem by selecting ingredients with the broadest possible spectrum of action. In this spirit, we created our first Hydrating Ritual line.
Our Story
Let me tell you the story of how I created the Nudmuses Skin Therapies brand...
My passion for cosmetics and skincare has been with me practically forever. I was fascinated not only by the products and how they worked but also by the process of creating them. I started experimenting and creating my formulas. That was the moment when I felt that I wanted to associate my future with cosmetics!
After working in the industry for a while, I felt it was time to create something of my own that would express my philosophy of taking care of my complexion.
I wanted to create a brand that would be authentic and transparent, its products would be effective and their use would be a great pleasure that would encourage systematic care with long-lasting results.
In my search, I was inspired by relaxing spa rituals and modern skin therapies. What I liked about them was the holistic approach to skin problems and the essence of creating a ritual that is not only supposed to give visible results but, is also supposed to bring solace and harmony to the body and spirit. I believe in the inextricable link between the body and mind and their mutual influence on each other, so when creating our cosmetics I try to remember that the condition of the skin depends not only on external factors but also has a connection with our inner world.
In 2022, together with Peter, my partner, we founded the Nudmuses brand. Today, our products are created and tested in independent laboratories run by qualified specialists and experts.
Magda
Co-founder of the brand
Name
The name of our brand is a combination of the words
nudus
(Latin for naked) and
muses
–
Nudmuses
, loosely interpreted: Naked Muses.
We wanted our name to reflect who we are and what motivates us. What is our most important muse is natural, "naked" skin.
For us, there is no single idealized image of it that we want to aspire to - every skin is different and has its individual needs, and this is what inspires us to act.
At the same time, nudity can be read as a symbol of transparency and authenticity. These are qualities that we want to accompany our brand throughout its development.
Awards
The Nudmuses brand is recognized by experts!
Our passion for cosmetics is evident in every product we offer. We make sure that our products are completely safe and have as many natural ingredients as possible. We focus on innovation, so we are constantly looking for new solutions to help us create even better products.
You are our inspiration!
For us, the most important thing is the satisfaction of our customers, so we constantly try to listen to your needs and improve our products. Thanks to this, our brand is growing and gaining more and more recognition in the beauty industry.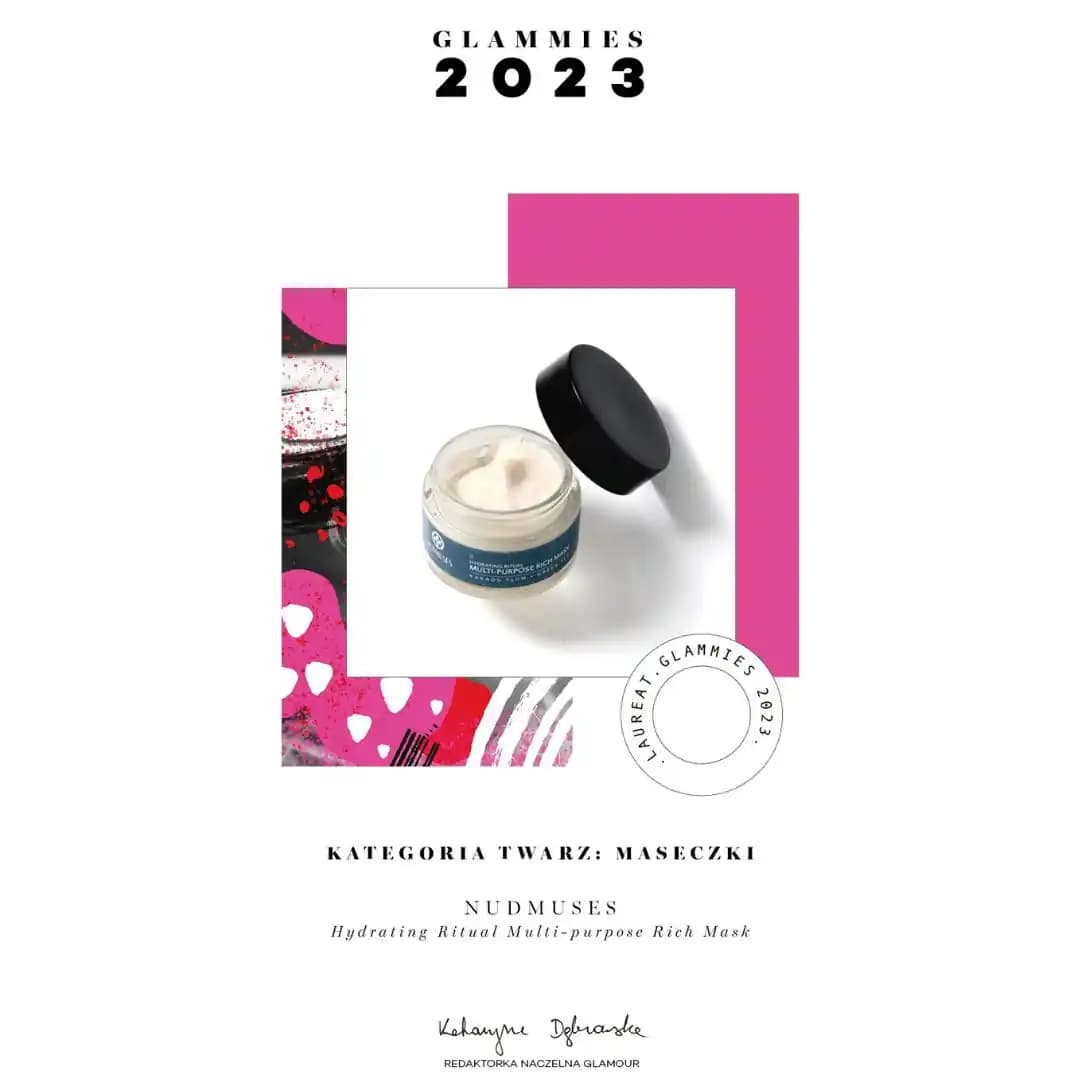 Glamour Glammies 2023 for Hydrating Ritual Multi-purpose Rich Mask in the category of Face - masks
"Glamour Glammies" is a nationwide poll conducted by the editors of Glamour magazine, in which readers choose the best cosmetics through voting. In the ninth edition of this beauty poll, the winner was our Multi-purpose Rich Mask.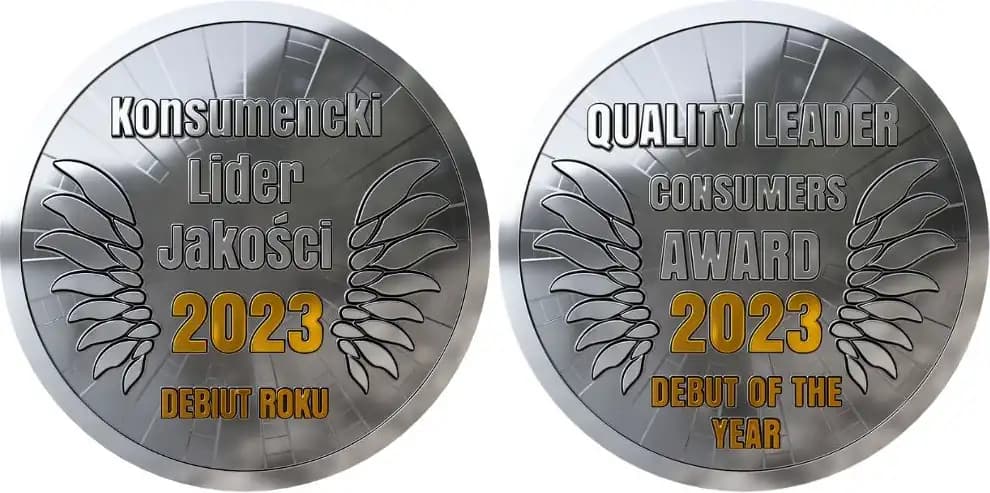 CONSUMER QUALITY LEADER - DEBUT OF THE YEAR 2023 in the category "Skin care cosmetics"
Consumer Leader of Quality - Debut of the Year 2023 is a nationwide, promotional consumer program carried out by the editors of Strefa Gospodarki. Its premise is to identify the best market novelties worthy of consumer attention and to support their promotion.