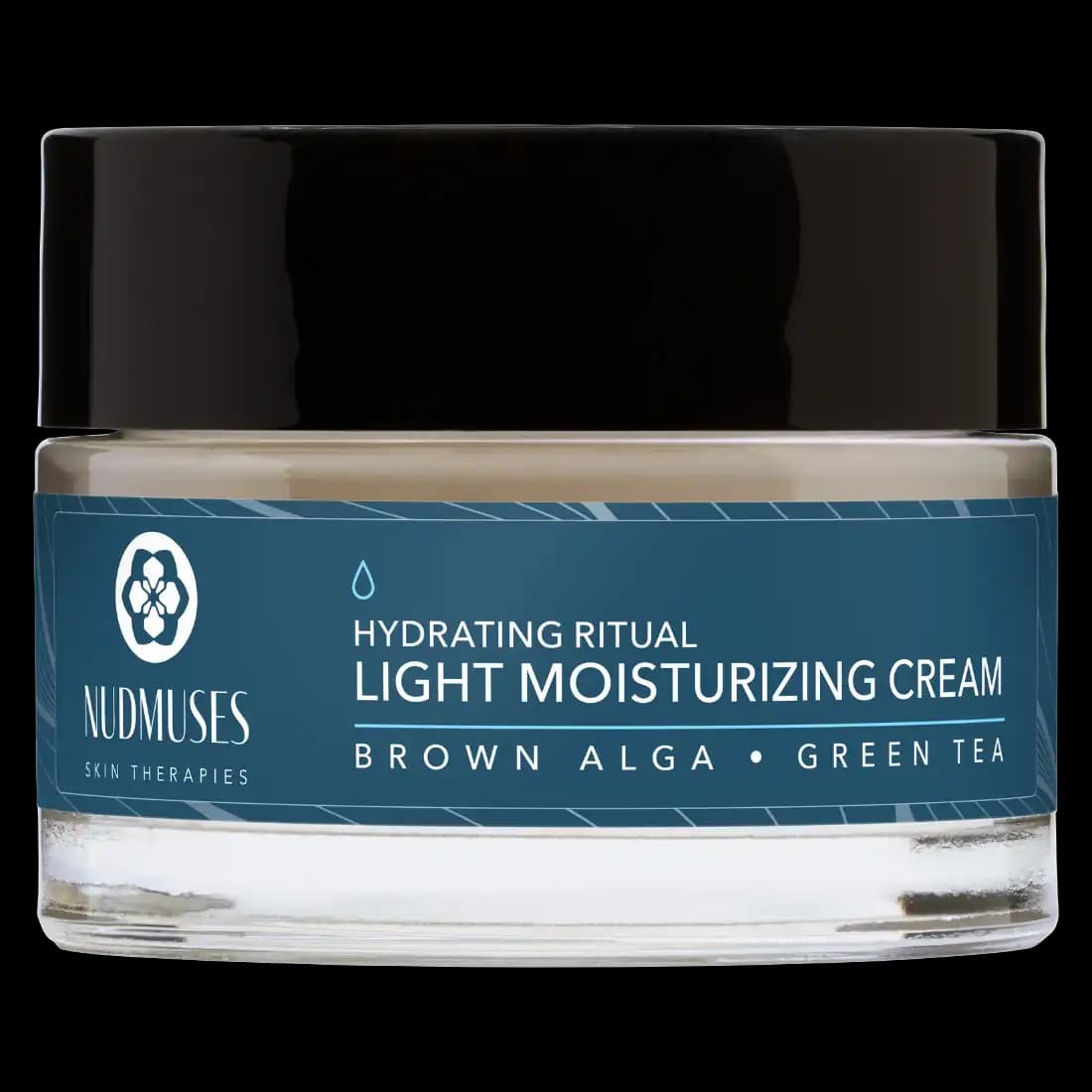 Hydrating Ritual, Light Moisturizing Cream, 50 ml
Product information
99 PLN
21 €
Size: 50 ml
Price for 100 ml: 198 PLN
Price for 100 ml: 42 €
Availability : High
Description
The light moisturizing cream with niacinamide, brown alga extract, and two hyaluronic acid derivatives was created for the daily care of all skin types. Its light and silky texture is perfectly absorbed, giving a pleasant feeling of comfort. The unique formula contains specially selected active ingredients, thanks to which this face cream restores optimal hydration, reduces the visibility of wrinkles, and gives the skin a healthy and radiant look.
Additional details
Our light moisturizing cream is a vegan product that contains 96% ingredients of natural origin.
Depending on your needs, it can be used both as a day and night cream. It is perfect before makeup.
Key benefits of Light Moisturizing Crem confirmed by research:
Light Moisturizing Cream…
restores optimal hydration and eliminates the feeling of dryness*
reduces the visibility of wrinkles and reduces the signs of skin aging*
gives the effect of improving skin elasticity*
soothes the skin and reduces the tendency to irritation and redness*
gives a rejuvenating effect*
provides the effect of reducing wrinkles*
gives a feeling of improved firmness*
adds radiance to the skin*
gives a feeling of relief*
gives a pleasant feeling of comfort*
reduces skin roughness*
reduces the first signs of skin fatigue*
makes the skin soft to the touch and silky smooth after use*
gives the skin a healthy and radiant look*
*based on in-use test
Light Moisturizing Cream belongs to the Hydrating Ritual line, which provides daily moisturizing care for facial skin. The line consists of three unique products: a light moisturizing cream, a serum, and a multi-purpose creamy mask. All products in the range are rich in natural ingredients that work together to restore optimal hydration. Additional action is anti-wrinkle care. Our formulas contain ingredients that help provide a wrinkle-reducing effect and are designed to give your skin a healthy and radiant appearance.
Apply to clean skin on the face and neck and gently massage. Perfect before make-up. Use in the morning and/or evening.
Extract of Undaria Pinnatifid alga
Extract from the stem of the brown alga Undaria pinnatifida reactivates 14 RNA messengers engaged in the synthesis of collagen, elastin, and hyaluronic acid, providing a visible anti-wrinkle effect. After just 14 days, the surface and volume of wrinkles on the forehead, around the mouth, and nasolabial furrows, are significantly reduced.
INCI: Undaria pinnatifida extract
Saccharide isomerate or pentavitin
Deep and immediate hydration for 72h*.
Pentavitin is natural moisturizing ingredient derived from corn kernels. Its action is due to its unique water-binding capacity and specific structure, similar to the carbohydrate complex present in the skin, so it perfectly combines with the upper layers of skin. Pentavitin strengthens the skin's protective barrier, providing long-lasting benefits: it improves hydration, reduces flaking and itching, and improves skin smoothness.
INCI: Saccharide Isomerate
*in vivo, after four weeks of use.
Sodium Hyaluronate
A natural component of tears.
It is a hydrophilic substance and a derivative of hyaluronic acid. Forms a water-binding film on the skin surface to reduce TEWL and provide adequate hydration. It conditions the skin, making it soft and smooth. It acts as a humectant and can increase the penetration of other cosmetic ingredients into the skin.
INCI: Sodium Hyaluronate
Niacinamide
A form of vitamin B3, which regulate the activity of sebaceous glands, smooths the surface of the skin, reduces its roughness and restores its elasticity, lightens hyperpigmentation, prevents its formation, and evens its color. You can read more about this ingredient on our blog.
INCI: Niacinamide
Green tea extract
Rich in polyphenols, compounds with anti-inflammatory and anti-radical properties. Green Tea helps maintain skin elasticity by inhibiting collagenase, an enzyme that breaks down collagen.
INCI: Camellia Sinensis Leaf Extract
Low molecular weight HA
Low molecular weight hyaluronic acid penetrates deep into the skin. It is an excellent moisturizer due to its high moisture retention capacity and antioxidant properties.
INCI: Hydrolyzed Sodium Hyaluronate
Hemp oil
Cold-pressed hemp oil is rich in Omega 3 and 6 acids and helps moisturize and repair mature and damaged skin.
INCI: Cannabis Sativa Seed Oil
Perilla oil
Cold-pressed oil from the seeds of the perilla plant is a rich source of linoleic acid, antioxidants, flavonoids, and ceramides. It moisturizes and has anti-aging and anti-inflammatory properties.
INCI: Perilla Ocymoides Seed Oil
Squalane
Squalane is a derivative of squalene, which is a natural component of our sebum. It is perfectly absorbed into the deeper layers of the epidermis, moisturizing and bringing relief to dehydrated and damaged skin. It is a renaturing substance and helps rebuild the skin's lipid barrier.
INCI: Squalane
INGREDIENTS: Aqua Squalane, Isoamyl Laurate, Coco-Caprylate, Saccharide Isomerate, Glyceryl Stearate Citrate, Glycerin, Butyrospermum Parkii Butter, Glyceryl Stearate, Cetearyl Alcohol, Niacinamide, Cannabis Sativa Seed Oil, Perilla Ocymoides Seed Oil, Tocopherol, Sodium Anisate, Acacia Senegal Gum, Xanthan Gum, Sodium Hyaluronate, Hydrolyzed Sodium Hyaluronate, Undaria Pinnatifida Extract, Camellia Sinensis Leaf Extract, Parfum, Potassium Sorbate, Sodium Benzoate, Dehydroacetic Acid, Benzyl Alcohol, Citric Acid, Sodium Citrate