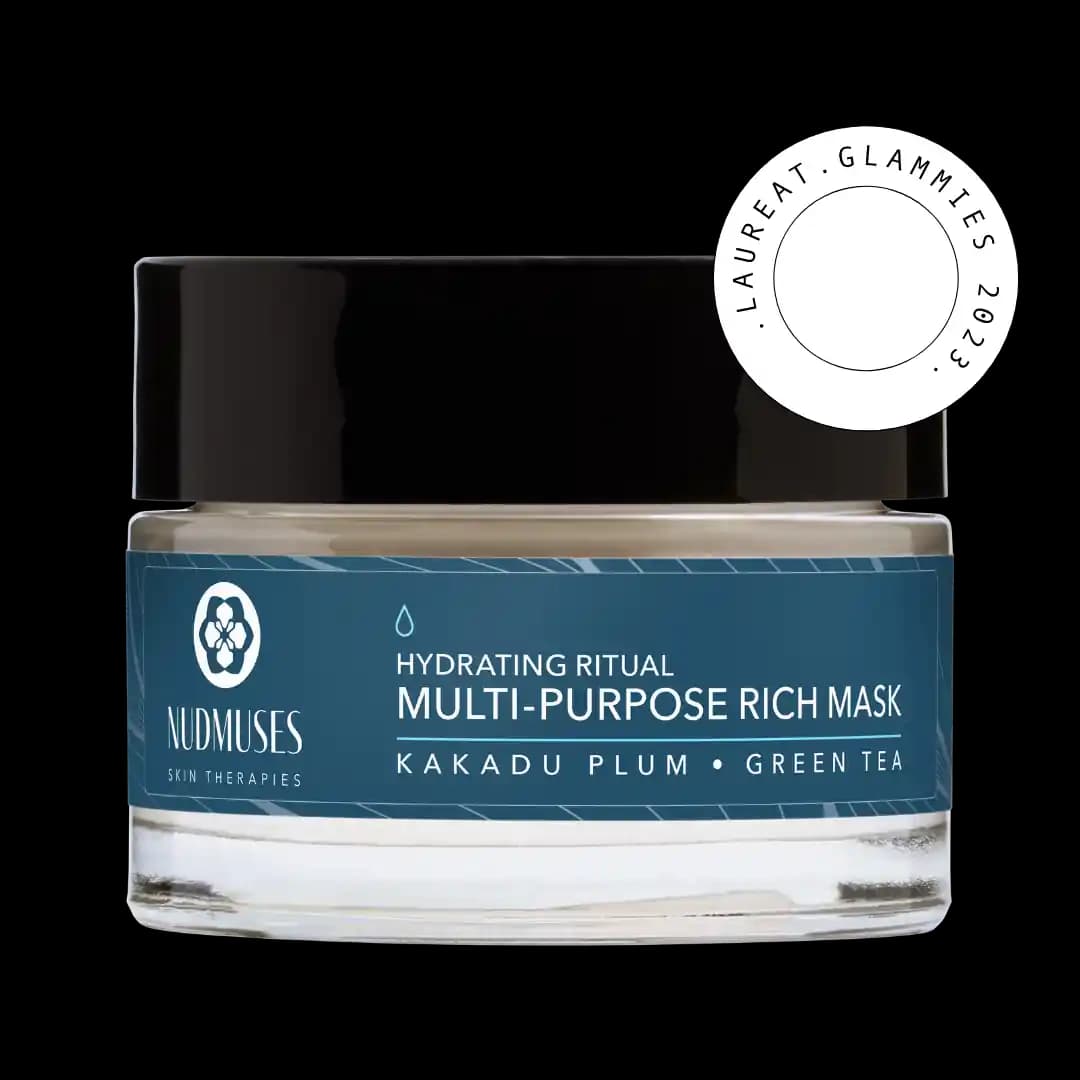 Hydrating Ritual Multi-purpose Rich Mask
VEGAN PRODUCT - 96% NATURALLY DERIVED INGREDIENTS
Product information
99 zł
21 €
Size: 50 ml
Price for 100 ml: 198 PLN
Price for 100 ml: 42 €
Availability : Sold out
Description
The Hydrating Mask from the Hydrating Ritual series is suitable for all skin types, especially dry and dull skin. This product is rich in natural ingredients that visibly nourish our skin. In the composition of this facial mask, you will find, among other things:
Saccharide isomerate and hyaluronic acid
Kakadu plum extract
Bisabolol
Additional details
Creamy Face Mask – Nudmuses
The exceptional and creamy texture of this mask gently envelops the skin, providing a feeling of comfort and soothing, reducing skin roughness, and leaving it silky smooth. The unique formula of this creamy mask is rich in active ingredients that visibly smooth out fine lines and wrinkles, giving the skin a healthy and radiant appearance.
The mask contains shea butter and a blend of four precious plant oils (monoi, perilla, sweet almond, and raspberry seed), which noticeably smooth and soften the skin.
Hydrating Mask – Quenching Thirsty Skin
Our hydrating mask is a multi-purpose cosmetic, and each use is a pleasant and relaxing ritual. Depending on your skin's needs, you can use it as:
A daytime cream

to bring out your skin's natural radiance and restore a glowing look

A nighttime moisturizing mask

to improve elasticity and provide a noticeable smoothing effect on the skin.

A creamy S.O.S.

mask for intense hydration, especially beneficial for dry and dehydrated skin.
Action of the hydrating face mask:
Hydrating
Improving skin elasticity
Reducing the visibility of wrinkles
Regenerating
Soothing and calming
The effectiveness of the Multi-purpose Rich Mask confirmed by research:
A versatile, rich hydrating mask...
Restores optimal moisture levels*
Provides intense hydration for the skin*
Reduces the visibility of wrinkles*
Diminishes signs of skin aging*
Enhances skin radiance*
Soothes the skin and reduces the likelihood of irritation and redness*
Provides a feeling of comfort and soothing*
Has skin-regenerating properties*
Eliminates the sensation of dryness*
Improves skin firmness*
Reduces skin roughness*
Increases elasticity and imparts a firm skin effect*
Leaves the skin soft and silky smooth*
Gives the skin a healthy and radiant appearance*
*Based on application testing
Skin types suitable for use:
Dry and dehydrated
Normal
Sensitive
Showing initial signs of aging
Application:
As a daytime cream
As a nighttime hydrating mask
As an S.O.S. mask
Skin Hydration with Multi-purpose Rich Mask
This mask is a multi-purpose product that you can use both day and night, or as an emergency mask when your skin needs intense hydration. Using the Hydrating Ritual series allows you to restore the optimal moisture level of your skin, with precisely selected active ingredients supporting the skin's hydrolipidic barrier. In the Hydrating Ritual series, you will also find a hydrating serum and a lightweight moisturizing cream.
Day cream or overnight mask: apply to the skin of the face and neck, massage gently. Use in the morning and/or evening.
S.O.S. cream mask: apply a thicker layer to the skin of the face. Leave for 10 - 15 minutes. Gently massage in any leftover product. Use 1-2 times a week.
Saccharide isomerate or pentavitin
Deep and immediate hydration for 72h*.
Pentavitin is natural moisturizing ingredient derived from corn kernels. Its action is due to its unique water-binding capacity and specific structure, similar to the carbohydrate complex present in the skin, so it perfectly combines with the upper layers of skin. Pentavitin strengthens the skin's protective barrier, providing long-lasting benefits: it improves hydration, reduces flaking and itching, and improves skin smoothness.
INCI: Saccharide Isomerate
*in vivo, after four weeks of use.
Sodium Hyaluronate
A natural component of tears.
It is a hydrophilic substance and a derivative of hyaluronic acid. Forms a water-binding film on the skin surface to reduce TEWL and provide adequate hydration. It conditions the skin, making it soft and smooth. It acts as a humectant and can increase the penetration of other cosmetic ingredients into the skin.
INCI: Sodium Hyaluronate
Kakadu plum extract
Originating from Australia, the Kakadu plum is the world's richest source of vitamin C (up to 100x more than oranges). The fruit extract promotes the synthesis of collagen and hyaluronic acid, thus smoothing wrinkles. Bring out skin radiance and brightness.
INCI: Terminalia Ferdinandiana Fruit Extract
Bisabolol
Bisabolol has soothing, anti-inflammatory, and antibacterial properties. The ingredient improves the appearance of dry and damaged skin, reduces flaking, and restores firmness.
INCI: Bisabolol
Niacinamide
A form of vitamin B3, which regulate the activity of sebaceous glands, smooths the surface of the skin, reduces its roughness and restores its elasticity, lightens hyperpigmentation, prevents its formation, and evens its color. You can read more about this ingredient on our blog.
INCI: Niacinamide
Green tea extract
Rich in polyphenols, compounds with anti-inflammatory and anti-radical properties. Green Tea helps maintain skin elasticity by inhibiting collagenase, an enzyme that breaks down collagen.
INCI: Camellia Sinensis Leaf Extract
Monoi oil
Monoi oil is produced by macerating Tahitian gardenia flowers in coconut oil. It smooths the skin, makes it supple, and soothes and promotes the regeneration process.
INCI: Cocos Nucifera Oil, Gardenia Taitensis Flower Extract
Sweet almond oil
Sweet almond oil is rich in unsaturated fatty acids, vitamin A, vitamin E, and B vitamins. It conditions the skin, improves its texture, makes it more flexible, and aids the regeneration process.
INCI: Prunus Amygdalus Dulcis Oil
Raspberry seed oil
Cold-pressed raspberry seed oil is rich in Omega 3 acid and tocopherol. It exhibits antioxidant and anti-inflammatory effects, regulates sebaceous glands, and calms the skin. It is a penetration promoter (promotes penetration of other ingredients into deeper layers of the skin). It lubricates and strengthens the lipid barrier.
INCI: Rubus Idaeus Seed Oil
Perilla oil
Cold-pressed oil from the seeds of the perilla plant is a rich source of linoleic acid, antioxidants, flavonoids, and ceramides. It moisturizes and has anti-aging and anti-inflammatory properties.
INCI: Perilla Ocymoides Seed Oil
Squalane
Squalane is a derivative of squalene, which is a natural component of our sebum. It is perfectly absorbed into the deeper layers of the epidermis, moisturizing and bringing relief to dehydrated and damaged skin. It is a renaturing substance and helps rebuild the skin's lipid barrier.
INCI: Squalane
INGREDIENTS: Aqua, Butyrospermum Parkii Butter, Cocos Nucifera Oil, Propanediol, Niacinamide, Glycerin, Cetearyl Glucoside, Cetearyl Alcohol, Prunus Amygdalus Dulcis Oil, Rubus Idaeus Seed Oil, Saccharide Isomerate, Gardenia Taitensis Flower Extract, Cetyl Alcohol, Myristyl Alcohol, Stearyl Alcohol, Lauryl Alcohol, Isoamyl Laurate, Glyceryl Stearate Citrate, Squalane, Perilla Ocymoides Seed Oil, Terminalia Ferdinandiana Fruit Extract, Camellia Sinensis Leaf Extract, Bisabolol, Acacia Senegal Gum, Xanthan Gum, Sodium Hyaluronate, Sorbitan Olivate, Parfum, Potassium Sorbate, Dehydroacetic Acid, Benzyl Alcohol, Sodium Benzoate, Citric Acid, Sodium Citrate