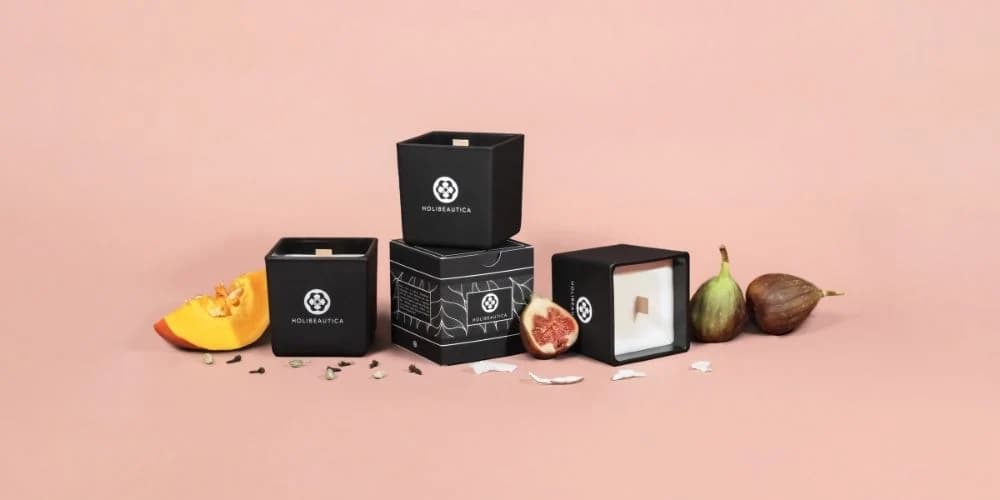 Soy candles or beeswax candles. Discover the differences.
Candles today are a key decorative element in our homes. Their gentle flames create an atmosphere of calm and relaxation. However, not all candles are created equal. Nowadays, more and more people are wondering about the type of candles that positively impact indoor air quality. Special attention is given to soy candles and those made from beeswax, which are growing in popularity. Both these options attract those looking for natural and eco-friendly solutions for their surroundings.
Soy Candles - Why Should You Choose Them?
In recent years, soy candles have become exceptionally popular, mainly due to their numerous benefits. But before we delve into their advantages, it's worth taking a closer look at soy wax from which they are made.
Characteristics of Soy Wax as a Raw Material:
Soy wax comes from soybean seeds, which are pressed for oil. After processing the oil, a natural, biodegradable wax is obtained, making it an excellent material for candle production. Soy wax is renewable, meaning its extraction does not have a negative impact on the environment, unlike paraffin alternatives.
Benefits of Soy Candles:
Eco-friendly Nature: Soy candles are biodegradable, meaning they don't pollute the environment once they're done burning. Moreover, producing soy wax requires less energy than traditional paraffin candles, contributing to reduced CO2 emissions.
Absence of Paraffin and its Accompanying Health Benefits:** Paraffin is a petroleum product, and its burning can release harmful substances. Soy candles do not contain paraffin, making them healthier. Additionally, they burn cleanly, emitting less soot and smoke, resulting in better indoor air quality.
Promotion of Polish-made Soy Candles: By choosing Polish soy candles, we support the domestic economy and local producers. Polish soy candle production also ensures that the product has been crafted with attention to the smallest details.
Soy candles are an excellent choice for conscious individuals who care about health and the environment. Their natural composition, combined with numerous health and environmental benefits, makes them a perfect addition to any home.
Beeswax Candles – A Natural Choice
For time immemorial, beeswax has been utilized by humans not only for candle production but also in medicine, cosmetics, and art. Its unique properties and versatility have made it a valued resource for centuries.
Benefits of Beeswax Candles:
Long Burning Duration: Beeswax is significantly denser than other candle-making materials, resulting in a longer burn time. Hence, beeswax candles offer better value compared to the shorter burn time of other candles.
Natural Fragrance: Beeswax candles possess a characteristic sweet scent of honey and flowers, making them remarkably aromatic even without the addition of artificial essences or oils.
Air Purification: Burning beeswax releases negative ions, which neutralize pollutants in the air, such as dust, pollen, and smoke. This assists in purifying indoor air, contributing to a healthier home environment.
Beeswax candles merge tradition with numerous health and ecological benefits. They are the perfect choice for those seeking natural and authentic products for their homes.
Comparison of Soy and Beeswax Candles
Selecting the right candle often depends on individual preferences and the attributes one values when shopping. Both soy and beeswax candles have their unique properties attracting different consumer groups.
Soy candles are suitable for those who appreciate eco-friendly and elegant solutions. Soy wax boasts a beautiful, slightly creamy color, making it an excellent scent carrier. In contrast, beeswax has its intense and distinct fragrance, making it less versatile in terms of scent composition. However, it offers the longest burn time among all candle types. Beeswax candles aren't vegan products. The final choice depends on personal preferences. It's essential to make informed choices and pay attention to the composition and origin of candles.
In our brand, you'll find an exclusive collection of soy candles with sophisticated and relaxing scents. The soy candle composition of Coconut & Fig originates from the blend of sweet, tropical coconut with a refreshing, mildly tart fig. Oud is one of the favorite notes of perfumers, encapsulating musk, incense, and smoke tones.
In this article, we've compared two popular candle types: soy and beeswax. While soy candles are lauded for their ecological nature and variety of fragrances, beeswax candles offer their inherent naturalness. We encourage a thoughtful consideration of what's essential for you and choosing candles that best meet your needs.