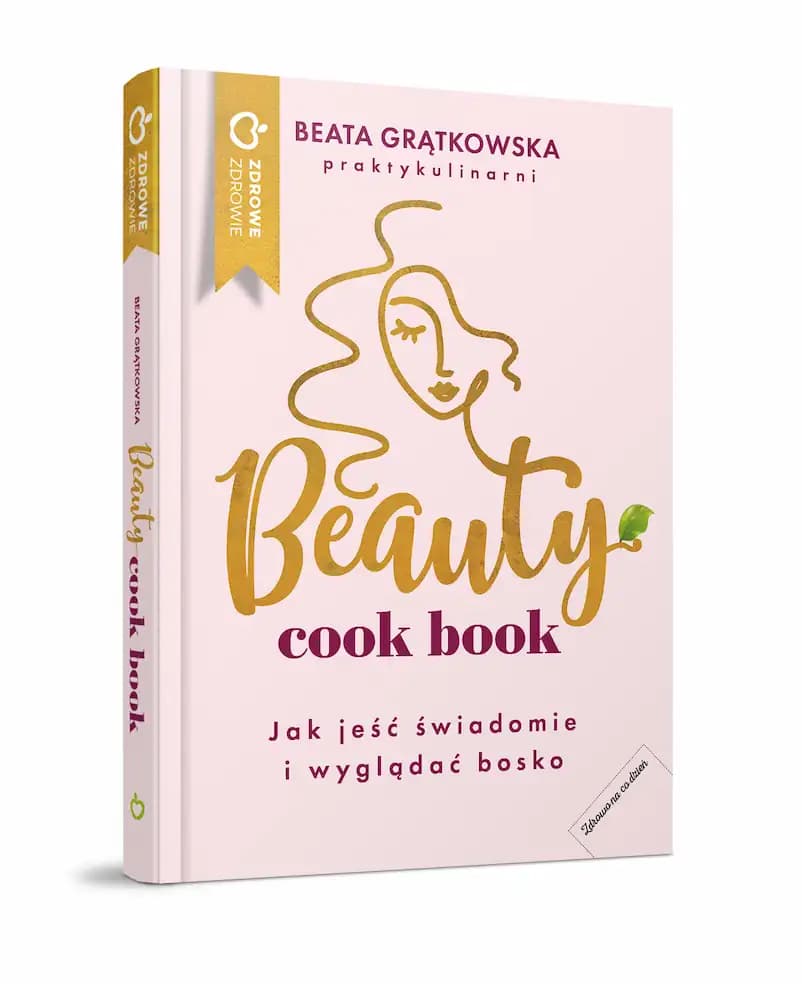 BEAUTY COOK BOOK. Jak jeść świadomie i wyglądać bosko
BY BEATA GRĄTKOWSKA
Product information
64.9 PLN
13.8 €
Size: 1 pc
Availability : Small
Description
What to eat to have beautiful hair, healthy skin and strong nails? What should a beauty diet look like? Check out what a nutritionist advises on this matter!
Beata Grątkowska
Beata Grątkowska, nutritional advisor, psychodietitian, personal trainer. Author of nearly six thousand recipes for newspapers and books. She has collaborated with with the magazines "Dobre rady", "Olivia", "Moje Gotowanie", "Kuchnia", "Moje smaki życia". Together with her husband, she runs the blog practicelinarni.com and a popular Instagram profile. In 2021, their book "Praktykulinarni. Szybko i zdrowo od śniadania do kolacji". In the subject of nutrition, she sticks to 4 rules: 1. It is better to learn how to add healthy ingredients than to eliminate and limit (unless there are medical recommendations). 2. You can eat everything in moderation, remembering about the variety in the diet (eating should be fun!). 3. What is healthy for the heart will benefit the whole body (and of course the skin). 4. You can cook delicious, healthy and nutritious dishes from readily available ingredients without spending long hours in the kitchen.
Additional details
Skin is our business card. Like it or not, we are often judged by our appearance. That is why healthy skin, shiny hair and strong nails can positively affect our well-being. But our appearance is not only a problem of perception of our person. Skin problems may indicate, for example, the beginning of the disease. How to fix it? Use supplements or expensive cosmetics? Not necessarily. Sometimes the key to success is proper nutrition. What should a beauty diet look like?
Age is not only skin problem
Glowing, taut skin, shiny hair, strong nails, beautiful smile... Who doesn't dream about them?
The skin ages, it's a natural process. With age, it begins to lack collagen and loses its elasticity. Over the years, it is exposed to sunlight, cold, wind and air pollution. Added to this today are stress, sleepless nights, worries, haste, hormonal turmoil, usually too little water drunk and (or perhaps above all) improper diet. Our health and our beauty depend on so many factors. Therefore, what is good for the heart, circulatory system, digestive system, brain, immunity will also contribute to the well-being of the skin, appearance of hair and nails. What should a beauty diet look like?
Diet for beauty... what exactly?
The author shows how thanks to the right diet and simple changes in everyday lifestyle, we can find the desired source of not only Eternal Youth, but above all Health. Indicates what is evidenced by skin changes or hair loss. It discusses the most common skin, hair and nail problems. She advises on which products can have a positive impact on our appearance, and which ones are better to avoid, and, importantly, she shares fantastic recipes with us. The recipes in the book are so varied that there is something for everyone. Because a diet for beauty does not have to be boring or restrictive!
ISBN: 978-83-8043-869-9
Format: 165 x 235 mm
Page count: 392
Binding: Soft
Publication date: 2022
Language: Polish