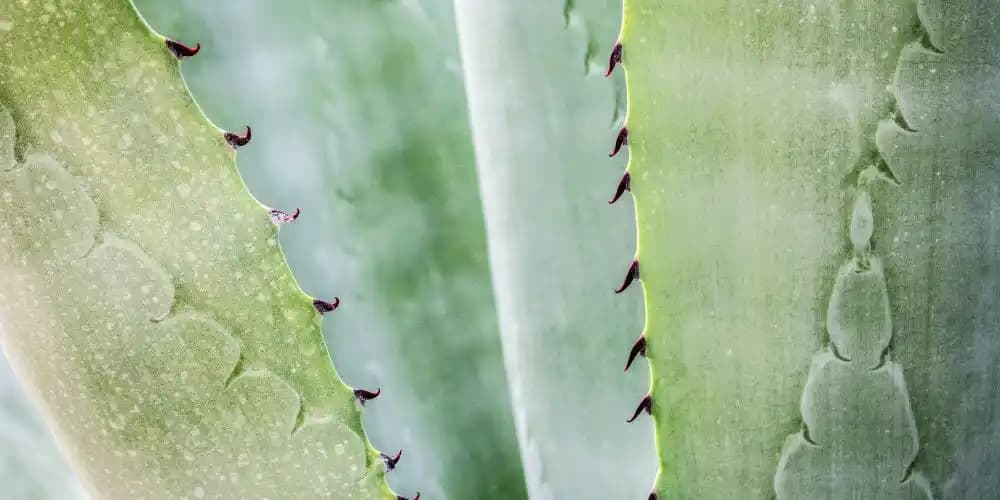 Aloe in skincare. The use of this ingredient in cosmetics and its effect on the skin.
Find out how aloe vera affects your skin and why it is worth using cosmetics containing aloe. Aloe vera is an ingredient that has been popular in cosmetics for many years. Its properties on the skin are extremely positive, and its soothing and moisturizing effect attracts the attention of lovers of not only natural skin care. In today's article, I want to talk about the use of aloe vera in cosmetics and its impact on the health and appearance of the skin. Get ready for a portion of knowledge about this valuable ingredient, which I hope will inspire you to include it in your daily routine.
Aloe - what is this plant
Aloe Vera (Aloe Vera L. = Aloe barbadensis Mill.) is a perennial, fleshy plant belonging to the Asphodelaceae family. It naturally occurs in semi-arid, tropical, and subtropical regions. Aloe leaves, which can reach up to 50 cm in length and 7 cm in width, consisting of three layers:
outer - fibrous protective layer,
fibrous layer - it contains a bitter substance that protects the plant,
jelly-like core, from which the raw material used in pharmaceutical and cosmetic products is extracted.
Aloe leaf juice used in Nudmuses products comes from eco farming.
Effects of Aloe on the skin
The history of aloe vera and its medicinal and cosmetic properties dates back to ancient times. The use mentioned of this plant can be found in the Sumerians. Aloe was also known in ancient Egypt, where there are theories that Nefertiti's skin owed its beauty to baths in aloe pulp and milk.
Aloe vera was used to soothe and moisturize as well as heal various skin damages (e.g. burns or abrasions). However, its positive properties for our skin are much more. Discover the effects of aloe vera on the skin:
hydration
mitigation
regeneration
anti-inflammatory effect
Aloe has an intense moisturizing effect, which is especially important for dry and dehydrated skin. Aloe vera contains many substances with hydrophilic properties, which means that they attract water and prevent moisture loss through the skin. Its emollient properties result primarily from the content of mucilages, which are hygroscopic (water-binding) compounds.
Secondly, aloe has a soothing and soothing effect on irritations and regenerates, which is especially important for people who struggle with skin problems such as acne or eczema. Aloe vera contains many anti-inflammatory compounds that help soothe inflamed skin and speed up skin regeneration, making it a great choice for people with sensitive and acne-prone skin. The healing effect results from the active ingredients found in aloe vera, which stimulate, among others, the growth of fibroblasts and reduce inflammation. Their effect is an increase in the amount of collagen and glycosaminoglycans. The active substances found in aloe are, for example, allantoin, glycoproteins, polysaccharides, and polyphenols.
The use of aloe vera in cosmetics
You can find aloe vera in many cosmetic products - in creams or serums, tonics, gels, after-sun products, or balms that soothe irritations.
One of the most popular uses of aloe vera in cosmetics is its use in the form of a gel. Aloe vera gel is a perfect product for people who struggle with dry and irritated skin because this gel can intensively moisturize the skin, soothe irritations and accelerate its regeneration. It is worth using it, especially after cosmetic procedures (unless there are clear contraindications), such as depilation, as it significantly soothes irritations and accelerates skin healing.
Aloe vera is also used in anti-aging products such as creams and serums. Thanks to its moisturizing properties and stimulating collagen synthesis, aloe vera helps to keep the skin firm and smooth, preventing the formation of wrinkles and other signs of skin aging. It is also important that aloe vera is a natural ingredient and safe for the skin. Thanks to this, products with aloe vera are ideal for people with sensitive and irritation-prone skin. It is worth noting that aloe vera is also used in hair care. In this case, it is usually used in the form of masks that help strengthen the hair, prevent hair loss, and give it a healthy look.
Aloe vera is an ingredient that is definitely worth including in your daily skin care. Thanks to its moisturizing, soothing, and anti-aging properties, it allows you to maintain a healthy, young, and radiant appearance. Thanks to the use of aloe, we can get many benefits, such as improving skin hydration, reducing redness and irritation, slowing down the aging process, and many more. Aloe vera is a natural, safe, and easily available ingredient, so it is worth using its potential in everyday care.
We hope that our article helped you learn about the benefits of using aloe vera in skin care and suggested how you can include this ingredient in your daily care. Thank you for reading!