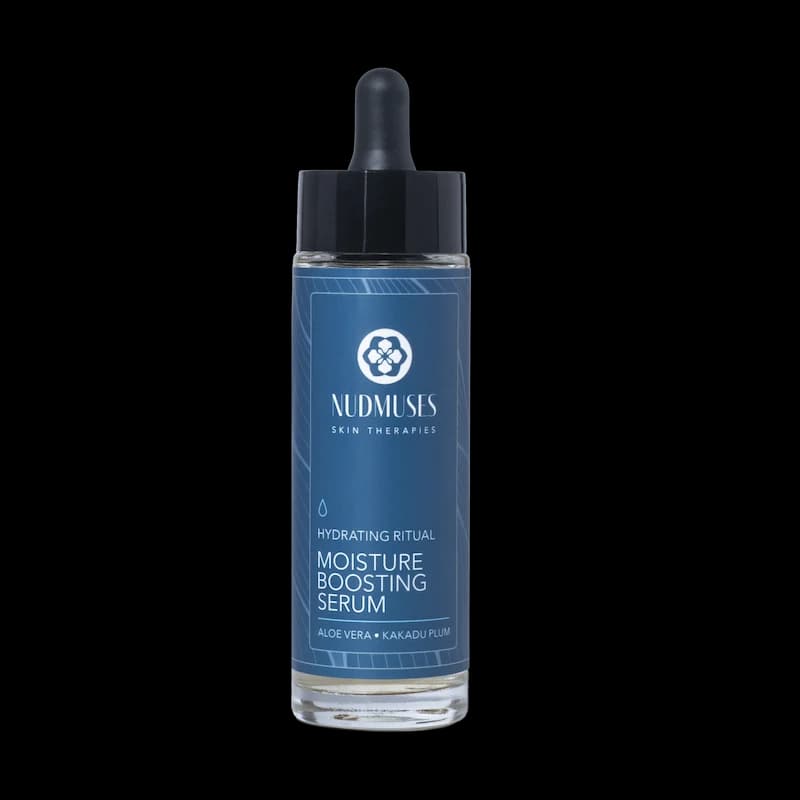 Hydrating Ritual, Moisture Boosting Serum, 50 ml
Product information
109 PLN
23 €
Availability : High
Description
The serum formula has been created for all skin types, especially those in need of quick moisture boost. This delicate gel spreads smoothly and is immediately absorbed without leaving a sticky residue. The oil-free formula with aloe vera, saccharide isomerate, low molecular weight hyaluronic acid restores optimal moisture and soothes the skin. The active serum containing EPS Seafill (an exopolysaccharide produced by sea plankton) and carefully selected extracts from witch hazel and Kakadu plum visibly reduces the appearance of fine lines and wrinkles, boosts luminosity and makes skin feel tighter. When used regularly, the serum gives the skin a healthy and radiant look.
Additional details
99% ingredients of natural origin.
The serum does not contain any added fragrance.
Key benefits confirmed with tests
92% confirm that this serum soothes the skin*
92% declares that this product adds glow to the skin*
92% noticed that the product makes the skin tighter*
92% agree that serum gives the skin healthy and radiant appearance*
92% reduces the tendency to irritation and redness*
*based on a study conducted on 25 consumers aged 18-55 for 14 days.
Vegan formula.
Apply to clean skin on the face. Use in the morning and/or evening. Follow with your favourite cream.
EPS Seafill
EPS Seafill is an exopolysaccharide produced by sea plankton that gives a skin-tightening effect within 15 minutes. The ingredient has the ability to tighten the collagen network, which results in an immediate smoothing and anti-wrinkle effect. EPS Seafill stimulates the synthesis of collagen, elastin, and hyaluronic acid.
INCI: Alteromonas Ferment Extract
Saccharide isomerate or pentavitin
Deep and immediate hydration for 72h*.
Pentavitin is a 100% natural moisturizing ingredient derived from corn kernels. Its action is due to its unique water-binding capacity and specific structure, similar to the carbohydrate complex present in the skin, so it perfectly combines with the upper layers of the stratum corneum. Pentavitin strengthens the skin's protective barrier, providing long-lasting benefits: it improves hydration, reduces flaking and itching, and improves skin smoothness.
INCI: Saccharide Isomerate
*in vivo, after four weeks of use.
Sodium Hyaluronate
A natural component of tears.
It is a hydrophilic substance and a derivative of hyaluronic acid. Forms a water-binding film on the skin surface to reduce TEWL and provide adequate hydration. It conditions the skin, making it soft and smooth. It acts as a humectant and can increase the penetration of other cosmetic ingredients into the skin.
INCI: Sodium Hyaluronate
Kakadu plum extract
Originating from Australia, the Kakadu plum is the world's richest source of vitamin C (up to 100x more than oranges). The fruit extract promotes the synthesis of collagen and hyaluronic acid, thus smoothing wrinkles. Bring out skin radiance and brightness.
INCI: Terminalia Ferdinandiana Fruit Extract
Aloe
Aloe vera juice exhibits moisturizing, emollient and soothing, anti-inflammatory, as well as healing and rebuilding effects on the epidermis.
INCI: Aloe Barbadensis Leaf Juice
Witch hazel extract
Exhibits antioxidant and antimicrobial activity.
INCI: Hamamelis Virginiana Leaf Extract
Low molecular weight HA
Low molecular weight hyaluronic acid penetrates deep into the skin. It is an excellent moisturizer due to its high moisture retention capacity and antioxidant properties.
INCI: Hydrolyzed Sodium Hyaluronate
INGREDIENTS: Aqua, Aloe Barbadensis Leaf Juice, Saccharide Isomerate, Glycerin, Hydrolyzed Sodium Hyaluronate, Sodium Hyaluronate, Terminalia Ferdinandiana Fruit Extract, Alteromonas Ferment Extract, Hamamelis Virginiana Leaf Extract, Tetrasodium Glutamate Diacetate, Sodium Benzoate, Potassium Sorbate, Dehydroacetic Acid, Benzyl Alcohol, Citric Acid, Sodium Citrate, Phenethyl Alcohol