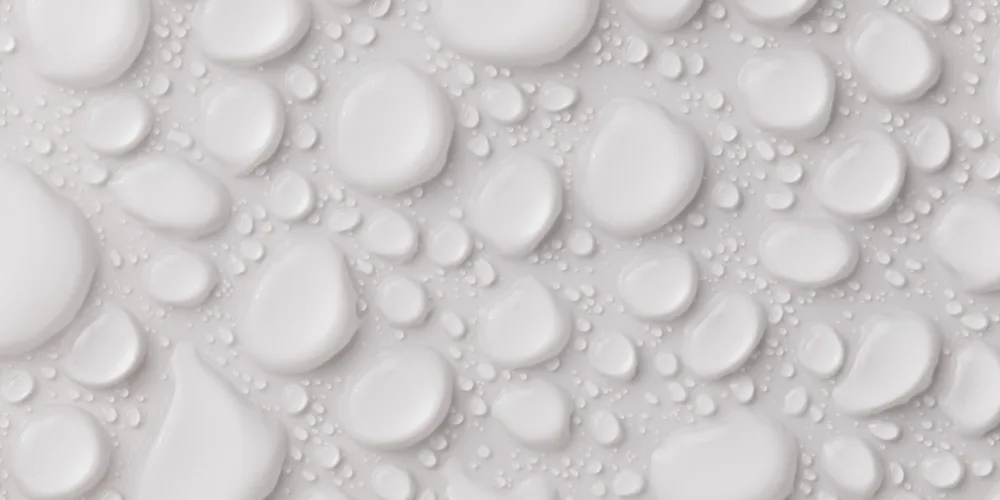 Hyaluronic acid the key moisturizing in cosmetics.
Hyaluronic acid is one of the most popular ingredient used in skin care and professional cosmetics. Why, when talking about hyaluronic acid, do we find sodium hyaluronate in the composition of the product and what is it really about low molecular weight acid? You will find all the answers in this article.
What is hyaluronic acid?
From a chemical point of view, it is a complex sugar, i.e. a polysaccharide belonging to the glycosaminoglycans. It occurs naturally in living organisms, it is a building component of, among others, the walls of blood vessels, synovial fluid, cartilage, and the vitreous body of the eye. Therefore, it is often used in medicine, e.g. in joint degeneration to improve their mechanics or in lens fluids. Hyaluronic acid is also responsible for skin firmness and elasticity, which is why it is so widely used in cosmetics. Unfortunately, its amount decreases with age, and around the age of 80, it disappears completely.
What INCI name to look for in cosmetics?
In nature, it mainly occurs in the form of sodium, potassium or calcium salts, not acid. Hyaluronic acid itself is quickly degraded and is mainly found in chemical laboratories in this form. That is why on the packaging of cosmetics you can find hyaluronic acid, and INCI includes: Sodium Hyaluronate or Potassium Hyaluronate or with the prefix Hydrolized. Some companies also use Hyaluronic Acid in INCI. Is it wrong? No, because probably the raw material they buy has such INCI indicated in the documentation. Hyaluronic acid and sodium hyaluronate in the cosmetic industry are used interchangeably, but refer to sodium hyaluronate. In cosmetology, we can find hyaluronans of animal and plant origin. The latter are more commonly used due to the popularity of plant materials. It is obtained by biofermentation, e.g. from wheat with lactic acid. Hyaluronates are in the form of a powder that, when dissolved in water, forms a transparent gel.
How does hyaluronic acid work?
Its most important property is hygroscopicity, i.e. the ability to bind water and retain it, thanks to which it reduces transepidermal water loss (so-called TEWL). Hyaluronic acid can be compared to a sponge that absorbs and stores moisture very well. That is why it is so eagerly used in moisturizing, protective and anti-aging cosmetics. Hyaluronic acid is also a popular ingredient in aesthetic medicine preparations where, among others, it is used as a filler. It then has a cross-linked form, i.e. it is combined into larger conglomerates so that it stays longer in the application site.
Which hyaluronic acid to choose?
In cosmetics, there are three types of particle sizes of hyaluronic acid derivatives, the so-called hyaluronans:
large molecules HMW

(high molecular weight acid), create a film on the skin's surface that protects against moisture loss; with a mass of 0.85 - 1.15 MDa

small molecules LMW

(low molecular weight acid) strongly moisturizes the stratum corneum, giving an immediate but short-term effect of smoothing and firming; mass less than 500 kDa

the smallest particles ULMW

(ultra-low molecular weight or low molecular weight acid) are distinguished by the highest water binding capacity, giving strong and long-lasting hydration; mass less than 10 kDa.
Increasingly, we can also meet the term multimolecular hyaluronic acid, which means that we have a mixture of molecules of different sizes: large, small and ultra-small. Manufacturers put sodium or potassium hyaluronate of different sizes in one product. What for? To ensure a comprehensive effect and lasting hydration. We have introduced such a solution in the Moisture Boosting Serum and light moisturizing cream, where we can find sodium hyaluronate (INCI: Sodium Hyaluronate) and low-molecular hyaluronic acid (INCI: Hydrolyzed Sodium Hyaluronate).
Properties of hyaluronans:
moisturizing effect by creating a protective film and retaining water,
reduces irritation,
protects against external factors,
emollients, making the skin elastic,
humectant, ie maintains proper hydration of the preparation, prevents it from drying out,
may increase the penetration of other ingredients of the cosmetic into the skin.
Who is hyaluronic acid for?
Hyaluronates have a low irritation profile and are mild, which is why they can be used on all skin types. Cosmetics with this raw material are especially recommended:
for dry, dehydrated and dry skin,
as an anti-aging prophylaxis,
to moisturize all skin types,
when regenerating damaged epidermis,
to improve tension and flexibility,
to protect the skin against moisture loss,
to slow down the aging process of the epidermis,
to neutralize the action of free radicals,
to soothe irritation caused by, for example, excessive skin exposure to the sun,
to alleviate the unpleasant effects associated with treatments with the use of acids and steroids.
A very good profile and versatile actions make sodium hyaluronate a commonly used raw material in cosmetology. We will find it in care products from face to body. Hyaluronic acid is an ideal raw material with moisturizing properties, to be used regardless of age and skin type. When creating our moisturizing line, we noticed the power of this ingredient, hence you will find it in our light moisturizing cream, multi-purpose rich mask and serum.
The post was created in cooperation with Kosmos w Słoiczku.