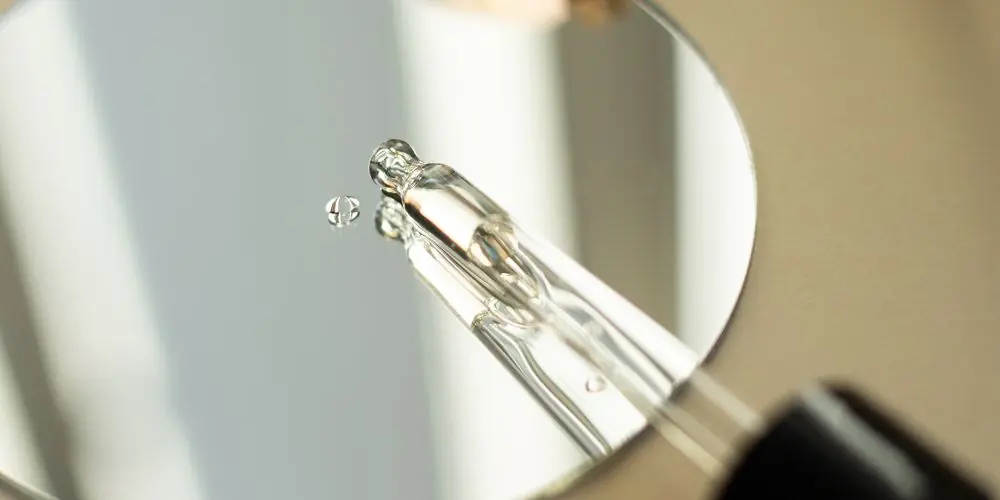 Niacinamide in cosmetics: benefits, properties and application.
Niacinamide is an ingredient that is increasingly appearing in the composition of cosmetics, which is highly appreciated by cosmetologists and experts in the beauty industry. In this article, we'll discuss how it works, its benefits, and how you can use it to get the best results.
What is niacinamide?
Niacinamide is a form of vitamin B3 which is also known as nicotinamide. It is an ingredient often used in skin care cosmetics due to its valuable and versatile effects and safety of use. The list of advantages of using cosmetics with niacinamide is long, including: evens out the skin tone, delays the aging process, and regulates the secretion of sebum. It will work well in the care of dry and sensitive as well as mixed, oily and acne skin.
Vitamin B3 is also found in many foods, including yeast, meat, eggs, milk and cereal grains.
The effect of niacinamide on the skin
Niacinamide is a multidirectional ingredient that can help improve the appearance of the skin. Here are some of the key benefits that using cosmetics with niacinamide can bring:
improvement of hydration,
irming and improving flexibility,
slowing down skin aging,
eduction of wrinkles,
normalization of the work of sebaceous glands,
ven skin tone.
Niacinamide is an ingredient that can be successfully used for various skin problems. It will moisturize and bring relief to dry and rough areas. It will strengthen your hydrolipid barrier and help in the formation of ceramides, which are one of the elements of the "intercellular cement".
Vitamin B3 is also an antioxidant that can help fight signs of aging like wrinkles. By stimulating the production of new collagen and elastin, it makes the skin firmer and more elastic. Niacinamide reduces the secretion of sebum by regulating the work of the sebaceous glands. It narrows the pores, making the skin look smoother. Vitamin B3 inhibits the synthesis of melanin, i.e. the skin pigment responsible for the formation of dark pigmentation spots. By preventing the formation of new and brightening existing discolorations, it makes the skin tone even. Niacinamide is also recommended in the care of acne skin due to its anti-inflammatory effect.
In addition to these specific benefits, niacinamide can also help improve the condition of your skin in general, which can make your skin glow and look healthy.
Is niacinamide suitable for all skin types?
Yes, it is an ingredient that can work for all skin types, including dry, oily, combination and acne skin. For dry skin, cosmetics containing additional moisturizing ingredients, such as hyaluronic acid or aloe vera, will be the best. Niacinamide is considered a safe ingredient for sensitive skin. It is an ingredient that has an anti-inflammatory effect on the skin. However, if you have very sensitive skin, it is recommended that you test a niacinamide product on a small area of skin before using it. In case of any alarming symptoms, stop using it immediately.
Types of cosmetics with niacinamide. How to use and with what ingredients to combine niacinamide?
Niacinamide is an ingredient that can be found in many different types of cosmetics. This vitamin is used in in hair products, because it improves their structure and gives them shine, while improving blood supply to the scalp, strengthens hair bulbs, thus preventing hair loss. You can also find it in bath products, toners, moisturizing and cleansing cosmetics. Add a serum, cream or mask with niacinamide to your skincare routine.
When using cosmetics with niacinamide, it is important to remember a few important tips. In high concentrations, vitamin B3 can lead to irritation and inflammation. Start using this ingredient with lower concentrations (up to 5%) and do not use more than one niacinamide product at a time at the beginning. If you have any doubts about the concentration of niacinamide in the product you choose, write to the manufacturer. It should help you choose the right cosmetic.
Niacinamide is an ingredient that can be used daily both in the morning and in the evening. You can also use a niacinamide mask once a week to further enhance the effect. It is important to remember to moisturize the skin and use the right moisturizing creams.
For even more benefits for the skin, it is worth choosing cosmetics with niacinamide, which contain other active ingredients, such as hyaluronic acid or zinc. These combinations of ingredients can help improve skin hydration, firmness and radiance.
The best ingredients in combination with niacinamide include:
hyaluronic acid,
retinol,
zinc,
azelaic acid.
However, we do not combine niacinamide with AHA and BHA acids and with vitamin C in the form of Ascorbic Acid in one care routine.
Niacinamide is one of the most popular ingredients used in skin care cosmetics. Its effect is scientifically confirmed, so we know that it effectively improves the appearance of the skin, e.g. by increasing its hydration or evening out the skin tone. It is a safe ingredient that can be used by all skin types. If you want to improve the appearance and condition of your skin, consider using cosmetics with niacinamide. For the best results, pay attention to the ingredients and formulas of your cosmetics and how you apply them. Remember that each skin type may require different care, so always check your skin before using any new cosmetics.