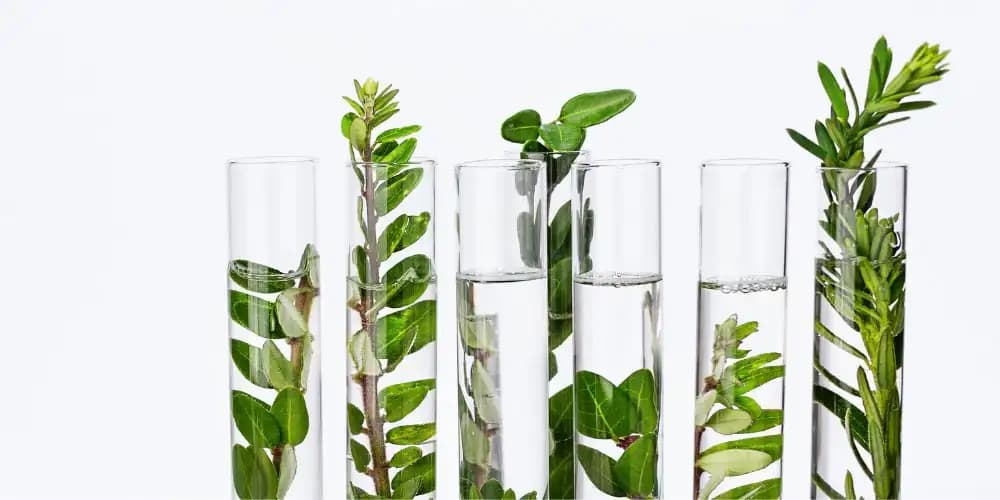 Secrets of skin care using natural plant extracts
Have you ever wondered how natural ingredients can affect our skin? We will take a closer look at the secrets of skin care using natural plant extracts. We aim to show you how plants, which nature surrounds us with, can influence the health and appearance of our skin. In this article, we will uncover the power of natural cosmetics and plant ingredients, which not only improve the condition of our complexion but primarily work in harmony with it.
Plant Extracts - The Secret of Natural Skin Care
Plant extracts are natural essences obtained from plants that contain concentrated amounts of bioactive ingredients, such as vitamins, minerals, antioxidants, and essential oils. They are the heart of many natural cosmetics used for skin care. Plant extracts are obtained through an extraction process, which involves separating active ingredients from plants. This can occur in several ways, including maceration (soaking plants in a solution), steam distillation, or through the use of ultrasound. The result is a concentrated extract that is a rich source of valuable ingredients. Plant extracts act on the skin in various ways, depending on the plant they come from.
Choosing the right plant extracts for skin care depends on the needs of our skin. Each extract has its unique properties that can be beneficial for different skin types. Here is an overview of a few popular plant extracts used in cosmetics:
Witch Hazel Extract - is known for its antibacterial and anti-inflammatory properties. It can help treat acne and reduce skin redness. You will find this extract in this moisturizing serum.
Kakadu Plum Extract - this plant holds the record for vitamin C content, up to 100 times more than an orange. Kakadu plum extract has anti-aging properties, brightens, and improves skin elasticity. The power of the Kakadu plum extract has been harnessed in this creamy moisturizing mask.
Green Tea Extract - is a powerful antioxidant that neutralizes free radicals and protects the skin from sun damage. It also has anti-inflammatory properties and helps in reducing acne. More information about it can be found in this article: Green tea extract in cosmetics. Check its properties.
Damask Rose Extract – it has nourishing, toning, and regenerating properties. It is known for its excellent effect on mature skin, aiding in the battle against signs of aging.
Marigold Extract - has anti-inflammatory and healing properties. It is recommended for sensitive, irritated skin with vascular problems.
Plant extracts are real treasuries of nutritious ingredients. They supply the skin with the components necessary for its proper functioning. They strengthen the skin's protective barrier, moisturize, soothe irritations, fight signs of aging, and also improve the appearance and color of the skin. The use of plant extracts in daily skin care can bring spectacular results, so it is worth reaching for natural cosmetics enriched with these valuable ingredients. It is essential to remember that the action of plant extracts, which we are looking for in cosmetics, should be tailored to the current needs of our skin. This is the basis for conscious and effective complexion care. Unfortunately, poorly chosen extracts may not bring the effects we expect, and in extreme cases, they may even adversely affect our skin, which is why the conscious choice of the right cosmetic product with plant extracts is so important.
Natural Cosmetics - Are They Worth It?
The trend for natural cosmetics is gaining increasing popularity, and consumers are more and more eager to reach for cosmetics rich in natural ingredients. Understanding what natural cosmetics are and the benefits of using them is key to making conscious choices.
At this time, there are no regulations defining what natural cosmetics are. There are only private certifying organizations (e.g., ECOCERT, COSMOS, NATRUE) that have their own definition of what a natural product is. However, it is worth remembering that such a certificate is not required by law. A product that is rich in natural ingredients is referred to as a natural cosmetic. Natural ingredients are those that are obtained through physical processes and fermentation, without additional modification. Meanwhile, ingredients of natural origin are those that come 50% from natural sources, obtained by chemical or biological methods. In natural cosmetics, you will find a wealth of ingredients such as plant oils, waxes, plant extracts, or clays. Nature offers an enormous amount of substances that will be very beneficial for our skin, so it is worth reaching for natural cosmetics. When choosing the right products, the most important thing is to know your skin type and its current needs. When choosing cosmetics, it is worth paying attention to the active ingredients that affect the complexion, such as antioxidants, moisturizers, or anti-aging substances.
Skin care using natural plant extracts is an investment in the healthy appearance and beauty of our skin. Plant extracts provide the skin with valuable nutrients, supporting its natural functions and improving its appearance. Natural cosmetics, being a treasure trove of these extracts, are safe and effective.