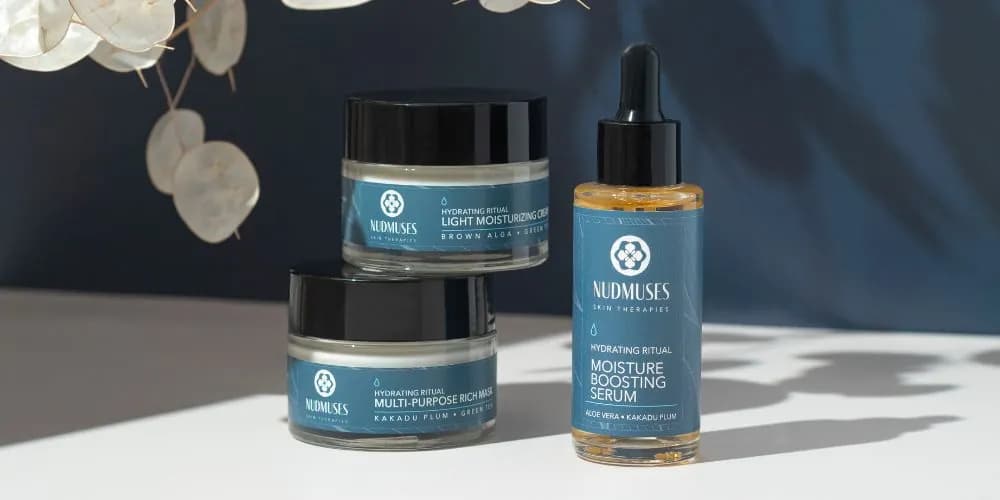 Skinimalism, or minimalist skincare. What is it?
In a world filled with skincare products, skinimalism is a balm for the soul for those longing for simplicity. But what exactly is this trend? Skinimalism is an approach to skincare that focuses on simplicity and effectiveness, instead of focusing on applying as many products as possible. The main goal of skinimalism is to focus on the most essential elements of care while limiting the number of cosmetics used.
This trend is gaining popularity as more and more people wish to simplify their daily skincare routine. Skinimalism is not only an expression of care for skin health, but also a departure from consumerism in favor of a more balanced approach to care. It is a philosophy that combines health, beauty, and conscious consumption.
What is skinimalism?
Skinimalism is a skincare trend that promotes simplicity and minimalism. It's a philosophy based on reducing the amount of products used to an essential minimum, focusing on quality over quantity.
Skinimalism recommends focusing on key products that are genuinely effective for your skin type, instead of using a long list of cosmetics. This could include elements like a good moisturize, a gentle cleansing product, and sun protection.
The idea of skinimalism is not only about simplifying the skincare routine, but also caring for the environment by reducing packaging consumption and less product waste. This approach is also beneficial for skin health, as fewer products mean a lower risk of irritations and skin overload.
How to introduce skinimalism into your skincare?
If skinimalism sounds like something you'd like to incorporate into your skincare routine, it's important to start by understanding your skin and its needs. Everything begins with analysis: this is the first step that will allow you to optimally match products. Remember that every skin is different, and what works for one person may not necessarily work for another.
Try to determine your skin type - is it dry, oily, mixed, or perhaps sensitive? Each of these types has its specific needs. For example, dry skin needs intense hydration, while oily skin needs sebum production regulation. A consultation with a dermatologist or beautician may be necessary, who will conduct a professional analysis and help us organize our care priorities.
Then, when we already know what our skin needs, it is necessary to build the base of our care, i.e., choose appropriate cosmetics. Take a look at the products you are currently using and think about which of the cosmetics you use are really necessary. Choose from them those without which you cannot imagine your care, for example, these could be three products: a gentle face wash emulsion, a cream restoring hydration, and a cream with UV filter. It is good to choose multifunctional products that can serve several purposes at once, for example, a moisturizing cream with a sun protection filter or a creamy face mask that you can use both as a daily day cream and an all-night mask.
It's important to adapt the care to the individual needs of the skin. The rules of skinimalism are not rigid - everyone can adapt them to their needs. If your skin requires special care, don't be afraid to add products addressing specific problems to your routine.
Remember that skinimalism is not about giving up care, but consciously choosing those products that are most important to you. This approach is meant to promote skin health and well-being, not neglect. The goal is to use fewer products, but those that really work - for you and your skin.
Effective Natural Ingredients in Skinimalist Skincare
Effective skinimalist care often involves using natural ingredients that have a beneficial effect on the skin. Below are a few key ingredients that can be included in your minimalist skincare routine.
Aloe Vera: Known for its versatile cosmetic properties, it soothes, hydrates, and regenerates the skin. It is particularly useful for dry and irritated skin.
Hyaluronic Acid: A naturally occurring component in the skin that has the ability to retain water, making the skin moisturized and radiant. You can read more about this ingredient here: Hyaluronic acid the key moisturizing in cosmetics.
Plant Oils: Such as perilla oil or raspberry seed oil. Plant oils are a true wealth of nourishing and moisturizing ingredients.
Remember, skinimalism is about understanding what your skin truly needs, and natural ingredients often prove to be key. The key is to tailor care to the individual needs of the skin, not to use everything at once. Knowledge of natural ingredients can help you better understand what your skin needs and make conscious skincare decisions.
Example of Daily Skinimalist Skincare Routine
Below you will find general rules for arranging a skinimalist care routine. Remember that this is a proposal that can serve as inspiration, in which you can include more targeted products for your skin's needs.
Morning Care
The aim of morning care is to prepare and protect the skin for the whole day.
Cleansing: Start the day by washing your face with a gentle gel or emulsion, which will remove dust and residue from the evening's skincare. In the morning, you may also wash your face with just water. Note that a cleansing emulsion will be a more universal product that you can also use for thorough cleansing and makeup removal in the evening.
Hydration: After cleansing, apply a moisturizing cream with hyaluronic acid, which will help retain water in the skin. Instead of cream, you can also use a hydrating serum, which will have ingredients tailored to your needs.
Protection: Finally, always apply a cream with sunscreen, even if it is cloudy outside. UV radiation is one of the main factors of skin aging, so blocking it is key to skin health.
Evening Care
The evening is a time for skin regeneration.
Cleansing: Start by removing makeup and cleansing the skin of impurities. You can use an emulsion for this, or cleanse your face in two steps (cleansing oil followed by gel).
Hydration: Proper hydration of the skin is the basis for maintaining the proper course of cell metabolic processes, without which the regeneration process may be disturbed. Hydration is therefore key! After cleansing, apply a rich moisturizing cream or an overnight mask.
Weekly – Additional Treatments
Although the skinimalist routine is based on minimalism, it's worth doing additional treatments once in a while.
Exfoliation: Once a week, perform a gentle exfoliation to remove dead skin cells and rejuvenate its appearance.
Mask: After exfoliating, apply a moisturizing face mask. You can choose one with aloe vera for additional hydration and skin soothing.
Skinimalism is about simplicity and focusing on the most important elements of skincare. Finding a ritual that works for you and your skin is key to a healthy, radiant complexion.
Effects and Benefits of Skinimalism
Skinimalism aims to focus on quality, not quantity. Users may notice an improvement in skin health as using fewer products can result in a lower risk of irritations and allergies.
Reducing the amount of products can provide relief to the skin, especially for those with sensitive skin. You may notice less redness, irritation, and breakouts. Furthermore, the skin can look and feel healthier, fuller, and more radiant.
If you're ready for a change, skinimalism may be the perfect solution. Experiment, listen to your skin, and find cosmetics tailored to your needs. Remember, every skin is different, so enjoy the process of discovering what is best for you.