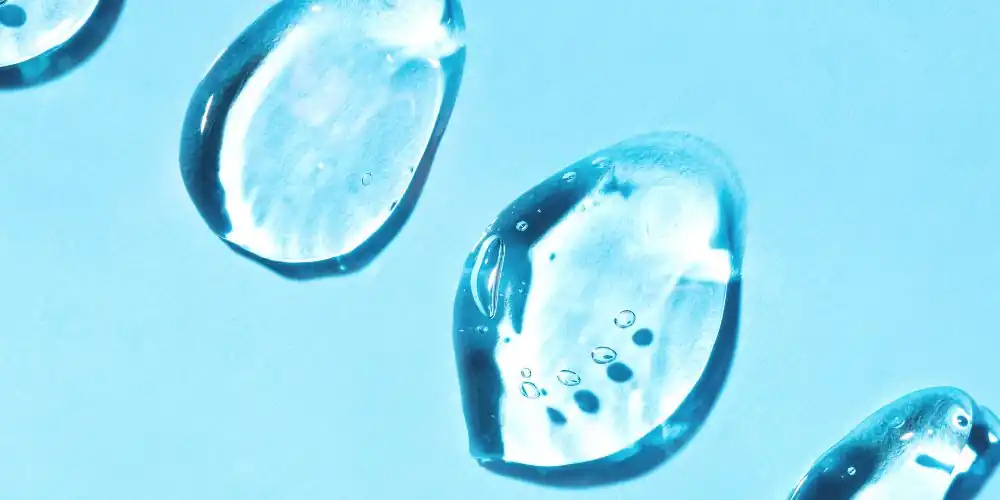 Sodium Hyaluronate - Get to know its properties
Sodium hyaluronate, an ingredient that has recently become almost synonymous with youth, enjoys considerable popularity in the world of cosmetology and medicine. This inconspicuous chemical compound, naturally occurring in human skin, plays a key role in maintaining its firmness and elasticity. In cosmetology, it's appreciated for its remarkable ability to retain water, ensuring the skin remains moisturized, radiant, and healthy. Given the growing interest and numerous studies confirming its beneficial effects, sodium hyaluronate has become an integral part of modern skin care.
What is sodium hyaluronate?
Sodium hyaluronate is otherwise known as the sodium salt of hyaluronic acid, which makes it a derivative of the latter; thus, these names can be used interchangeably. It's a polysaccharide that naturally occurs in all living organisms, including the human body. While its name may sound like a complex, synthetic ingredient, it's actually a natural and essential component of many of our body's tissues and fluids. Sodium hyaluronate has many beneficial properties that are utilized in cosmetology. Primarily, it's a very potent humectant, binding water.
Hyaluronic acid is a part of the skin's extracellular matrix, connecting cells and playing a crucial role in its hydration and elasticity. Due to its ability to bind a large amount of water – up to 1000 times its weight – the skin becomes more hydrated, firm, and elastic.
The natural content of hyaluronic acid in the skin isn't constant and unfortunately decreases with age. In youthful skin, hyaluronate plays a pivotal role in maintaining its elasticity, density, and firmness. However, as years go by, the production of hyaluronic acid in our body diminishes, leading to a loss of skin elasticity, wrinkle formation, and dryness.
It's this understanding of the role of hyaluronic acid in human skin that has led to its widespread use in cosmetology. Modern technologies have enabled the creation of stable forms of hyaluronic acid, like sodium hyaluronate, which are effectively utilized in many cosmetic products.
Properties of Sodium Hyaluronate
Sodium hyaluronate combines excellent skincare action with a high safety profile. Its key properties have been confirmed by numerous studies and scientific publications, making it a thoroughly vetted ingredient.
Hydration
One of the most valued aspects of sodium hyaluronate is its ability to intensely hydrate the skin. It can bind water in amounts multiple times its weight, translating to deeply moisturized and radiant skin. As indicated by a study published in the Journal of Clinical and Aesthetic Dermatology (2014), sodium hyaluronate improves skin hydration, leading to increased firmness and elasticity, and additionally reduces TEWL, or transepidermal water loss.
Wrinkle Filling
Sodium hyaluronate not only moisturizes but also acts as a natural wrinkle filler. Thanks to its ability to accumulate water, it plumps the skin from within, reducing the visibility of fine lines and wrinkles.
Promotion of Penetration
Sodium hyaluronate can enhance the penetration of other cosmetic ingredients deep into the skin.
Safety for Different Skin Types
Sodium hyaluronate is well-tolerated by the skin, making it an ideal choice for all skin types, including sensitive skin. This ingredient has a low profile of allergic reactions and is safe for cosmetic use.
Given the above properties, sodium hyaluronate is a valuable ingredient in skin care, providing hydration, filling wrinkles, and ensuring safety for various skin types.
Cosmetics with Sodium Hyaluronate
Sodium hyaluronate is an ingredient that has revolutionized the world of cosmetology. Its unique properties, confirmed by scientific research, have made it an integral part of many skincare products. Let's explore the cosmetics with sodium hyaluronate that are worth having in your beauty kit.
Due to its excellent moisturizing and filling properties, sodium hyaluronate has become a favorite among cosmetic manufacturers. We can find it in products designed for the care of the face, body, and even hair. Its ability to retain water ensures that products containing it provide excellent skin hydration. If you want to introduce this ingredient into your skincare routine, look for products labeled with Sodium Hyaluronate.
A serum with hyaluronic acid can give the skin a real hydration boost. It often comes in a light, gel-like formula that absorbs quickly and is ideal for all skin types. Be sure to check out the Hydrating Ritual, Moisture Boosting Serum, as it contains hyaluronic acid in two forms – sodium hyaluronate and low molecular weight hyaluronic acid (Hydrolyzed Sodium Hyaluronate). The combination of different-sized hyaluronic acid molecules offers a comprehensive effect and lasting hydration.
Both face and body creams with sodium hyaluronate provide long-lasting skin hydration. They are ideal for people with dry and sensitive skin, as well as for those looking to delay the aging process. Our lightweight moisturizing cream is further fortified with saccharide isomerate, which amplifies the effects of hyaluronic acid.
Masks with sodium hyaluronate work intensively to deeply moisturize the skin. When used regularly, they can offer noticeable benefits in the form of nourished, firm, and radiant skin. You can find sodium hyaluronate in the Multi-purpose Rich Mask.
Why choose cosmetics with sodium hyaluronate?
Thanks to its unique properties, sodium hyaluronate effectively hydrates, fills wrinkles, and helps maintain healthy and well-conditioned skin. Moreover, it's a safe ingredient for various skin types, including sensitive and problematic skin. Considering its multitude of benefits, there's no doubt that cosmetics with sodium hyaluronate are worth incorporating into daily skincare.
Sodium hyaluronate is the key to deeply moisturized and younger-looking skin. Its unparalleled properties bring visible benefits to every skin type. We encourage further exploration of its wonderful effects and experimentation with cosmetics containing it.
Recommended cosmetics: