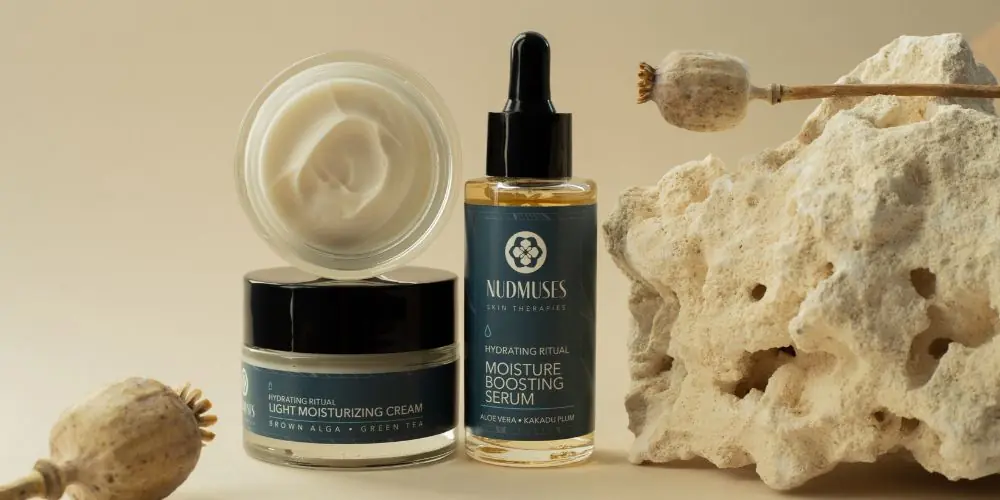 3 cosmetics you're using wrongly - how to improve your skin care and achieve a beautiful, healthy look?
Have you ever wondered if your daily skincare routine is truly effective? Do your cosmetics work as they should, or are you perhaps doing something wrong? Well, you are not alone. Many of us are not aware that even the simplest tasks such as washing your face or applying cream can be performed incorrectly, not in the right order, which leads to lack of results, and sometimes even a deterioration of the skin's condition. The most popular products that are often used incorrectly are exfoliating scrub, face cream, and toner. Knowledge of the correct use of these products can revolutionize your daily care, helping your skin look and feel better than ever before.
Exfoliating Scrub
The first cosmetic that is often used incorrectly is the exfoliating scrub. This indispensable product is key to maintaining the skin in good condition, as it helps to remove dead skin cells, cleanse pores, and speed up skin renewal. However, many people use exfoliating scrub too often or choose a product with too intense an action. Additionally, for rinse-off acid and enzymatic scrubs, many people leave the product on the skin for too long, which leads to the opposite effect – irritation, dryness, and damage to the natural skin barrier.
Ecessive use of exfoliating scrubs not only dries out the skin, but it can also lead to increased sebum production, which in turn can cause the appearance of pimples. Too intense use of scrubs, especially those with large granules, can also lead to micro-abrasions on the skin, which are invisible to the eye but create ideal conditions for bacteria and can lead to inflammatory conditions.
The key is moderation and adapting the type of scrub to your skin type. If you have oily or combination skin, use an exfoliating scrub a maximum of twice a week. On the other hand, if your skin is dry, sensitive, or thin, you should limit scrubbing to once a week, or even once every two weeks. Then choose gentle chemical scrubs.
Don't forget the key step after exfoliation - moisturizing. Exfoliating reveals a new, fresh layer of skin, which is more susceptible to dehydration. Therefore, always apply a rich cream or moisturizing mask to your face after exfoliating. This will help your skin regenerate.
Face Cream
The second product that is often used incorrectly is the face cream. Face cream is an indispensable part of the skincare ritual, but we do not always apply it correctly. The most common mistake is using too much product. We often think that the more cream we apply, the better we will moisturize and nourish the skin. In reality, this can lead to clogged pores, which can result in the appearance of pimples.
The rule is simple - a thin layer of cream is sufficient. When applying cream, focus on massaging it into your facial skin, which will increase its absorption and stimulate circulation. Another common mistake is skipping the eye area when applying cream. This part of the face is particularly delicate and requires special care. It is best to use special eye area creams for this area, which are lighter and gentler than standard face creams.
Wondering when to apply cream? The time of application is just as important as the method. It is best to apply face cream twice a day - in the morning and in the evening. In the morning, after cleansing your face, apply a cream that will help protect the skin from harmful external factors, such as pollution or UV radiation. In the evening, after thoroughly cleansing the skin, apply a moisturizing cream that will help regenerate the skin overnight.
Remember, choosing the right face cream is key. Choose products tailored to your skin type and its needs. If you have dry skin, choose creams rich in moisturizing ingredients, such as hyaluronic acid or saccharide isomerate. If your skin is oily, look for light emulsions or gels that will control sebum production and will not clog pores. Explore the Nudmuses cosmetics, where you are sure to find a cream suitable for the needs of your complexion.
pplying face cream is the basis in skin care. However, proper use of this product - the right amount, application technique, timing, and selection - can significantly increase its effectiveness. Remember these tips so that your skin can reap as many benefits as possible from your favorite face cream.
Toner
The last, but no less important product, that is often misused is toner. Many people unjustifiably skip this step in their skincare routine, unaware of the benefits that a toner can bring to the skin. Toner helps remove traces of makeup and impurities, restores the natural pH of the skin, moisturizes, and prepares the skin for further care.
A common mistake is using toner as the primary facial cleansing product. This common error can lead to skin problems. Although toner is an effective product in complementing the skin cleansing process, it should not replace a product intended for cleansing, such as a gel or cleansing cream.
Facial cleansing products are specifically designed to effectively remove makeup, sebum, impurities, and dead skin cells. Toner has a different function. Its role is to remove traces of makeup and impurities that may have remained after cleansing, to restore the skin's natural pH, and also to prepare the skin for better absorption of subsequently applied cosmetics. Toners also contain ingredients that can moisturize, refresh, soothe irritations, soften the skin, and improve its appearance.
If you use a toner instead of a facial cleansing product, your skin will not be properly cleaned. This can lead to clogged pores, the appearance of pimples, and even accelerate the skin aging process.
Another mistake is the improper application of toner. It is best to apply toner directly with your hands or with a soft cotton pad, making gentle movements from the center of the face outward. Avoid rubbing the skin, which can lead to irritation.
A well-chosen toner can be a real game-changer. If you have dry skin, choose a moisturizing toner; if your skin is oily and acne-prone, choose an acid toner, e.g., with salicylic acid, which will help fight blackheads. And if you have sensitive skin, choose a toner with aloe or other soothing ingredients that will help minimize irritation.
Remember, every skin type has its unique needs, so the key to choosing the right toner lies in understanding your skin. Choose a toner that will provide the skin with necessary moisturizing, nourishing, and regenerating ingredients.
Proper skin care is key to its healthy and radiant appearance. However, it's not always about how many products you use, but how you use them. As we can see, incorrect use of even such basic cosmetics can fail to bring the desired effects, and can even counteract our efforts.