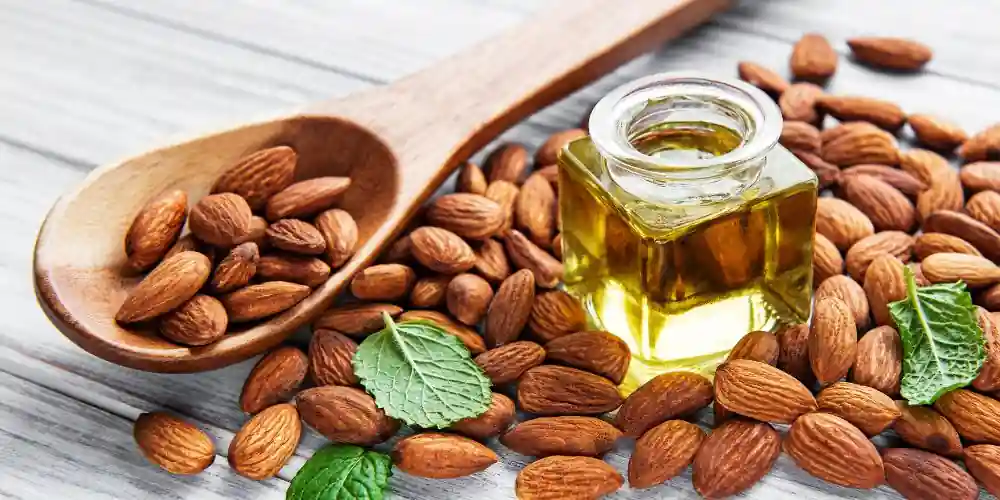 Sweet almond oil in cosmetics
Following the trend of returning to nature, an increasing number of people are opting for skincare based on natural ingredients. Natural cosmetics are winning the hearts of users around the world, and one of its valued and well-known ingredients is sweet almond oil. It enjoys unwavering popularity due to its remarkable care properties. It superbly moisturizes, nourishes the skin, and adds elasticity. Regardless of the skin type, almond oil finds its use in the care of dry, combination, and oily skin. In cosmetics, it appears as a key ingredient in many products, from creams and balms to body oils. In the following sections of this article, we will take a closer look at the phenomenon of sweet almond oil in cosmetics.
The history of using sweet almond oil in cosmetics dates back to ancient times. Ancient Egyptians already appreciated its unique properties and used it for both skin and hair care. Almond oil was and still is used not only in cosmetics. In ancient Greek and Roman medicine, it was used as a soothing remedy for skin conditions such as eczema or psoriasis. In India, almond oil was and still is an integral part of Ayurveda - traditional Indian medicine.
Today, sweet almond oil is an indispensable ingredient in natural cosmetics. It is a key component of many products, such as creams, balms, body oils, or hair masks. Its application is so broad that it undoubtedly deserves the title of "elixir of youth".
Properties and uses of sweet almond oil
Sweet almond oil is a real treasure for the skin. Its properties are invaluable, which is why it has found application in many care products. The wealth of nutrients makes almond oil effective in the care of both dry and oily or combination skin.
The main advantage of almond oil is its ability to intensely moisturize the skin. This oil is rich in unsaturated fatty acids, which retain water in the skin, preventing it from drying out. It also contains vitamin E, known as the "vitamin of youth", which protects the skin from free radicals and supports regeneration processes.
Almond oil is extremely gentle on the skin, does not cause irritation, which makes it perfect for people with sensitive, prone to irritation skin. It has a soothing effect, so it is often used after sunbathing, or to alleviate irritations after shaving or depilation.
Its regenerative and nourishing properties make it an ideal ingredient for mature skin care. Almond oil helps fight signs of aging, such as wrinkles or loss of firmness. Regular use of cosmetics with almond oil can help maintain a youthful appearance of the skin for longer.
Sweet almond oil is rich in ingredients that are extremely beneficial for the skin:
Unsaturated Fatty Acid:

Sweet almond oil is rich in unsaturated fatty acids, including oleic and linoleic. These fatty acids help maintain proper skin hydration, protect its lipid barrier, and also have anti-inflammatory properties.

Vitamin E:

It is known as the "vitamin of youth". Vitamin E has strong antioxidant properties that help protect the skin from the harmful effects of free radicals. It also aids in skin regeneration processes.

Vitamin A:

Helps in the renewal of skin cells, and also supports its elasticity and firmness.

Squalene:

This is a natural component that is biocompatible with the skin, helping to maintain its moisture and protect against water loss.

Phenolic Compounds:

They have antioxidant effects and help combat the harmful effects of external factors.

Minerals:

Sweet almond oil also contains many valuable minerals, such as zinc, magnesium, calcium, and potassium, which are essential for the proper functioning of the skin.
Sweet almond oil has many properties that benefit not only the skin. Here are some of them:
Hydration:

Almond oil intensely moisturizes the skin, retains water in the epidermis, and helps maintain proper hydration.

Regeneration:

Thanks to the presence of vitamins A and E, it supports skin regeneration processes, accelerates the healing of minor wounds and irritations.

Elasticizing:

Almond oil helps maintain the elasticity and firmness of the skin, which is particularly important in combating signs of aging.

Soothing:

It has a calming effect on the skin, soothes irritations and redness. Ideal for sensitive and irritation-prone skin.

Hair Care:

Almond oil is also excellent for hair care. It moisturizes, nourishes, adds shine.
Sweet almond oil is one of those ingredients worth having in your cosmetic bag. Thanks to its numerous properties and applications, it is an ideal companion in daily skin care.
Cosmetics with sweet almond oil
Sweet almond oil is a key ingredient in many cosmetic products. Its versatility and unique properties make it used in various forms of cosmetics.
The first product worth mentioning is a facial cream with sweet almond oil. Thanks to its moisturizing and nourishing properties, such cream is perfect for daily skin care, especially for dry and mature skin.
Another popular cosmetic is a body lotion with almond oil, which intensely moisturizes the skin, giving it smoothness and velvety softness.
The moisturizing mask with sweet almond oil also deserves special attention. Regularly used, it helps keep the skin in excellent condition, and also supports its natural regeneration processes. The multi-purpose rich moisturizing face mask with niacinamide and bisabolol, extracts of green tea and kakadu plum, and saccharide isomerate, provides the skin with a wealth of active ingredients, while ensuring a feeling of comfort and relief. The creamy mask from Nudmuses is a vegan product that is rich in natural ingredients.
Sweet almond oil works great for hair care, so we can't forget about the hair oil with almond oil, which nourishes dry and damaged hair, giving it a healthy shine.
Sweet almond oil is a real wealth of ingredients beneficial to our skin. From intensive hydration, through regenerating action, to protection against the harmful effects of free radicals - these properties make cosmetics with almond oil an ideal choice for people wanting natural, effective care. Both the moisturizing mask with sweet almond oil and other products with its addition can bring many benefits to the skin. We encourage you to try cosmetics with sweet almond oil and discover the secrets of natural care that these unique products hold.