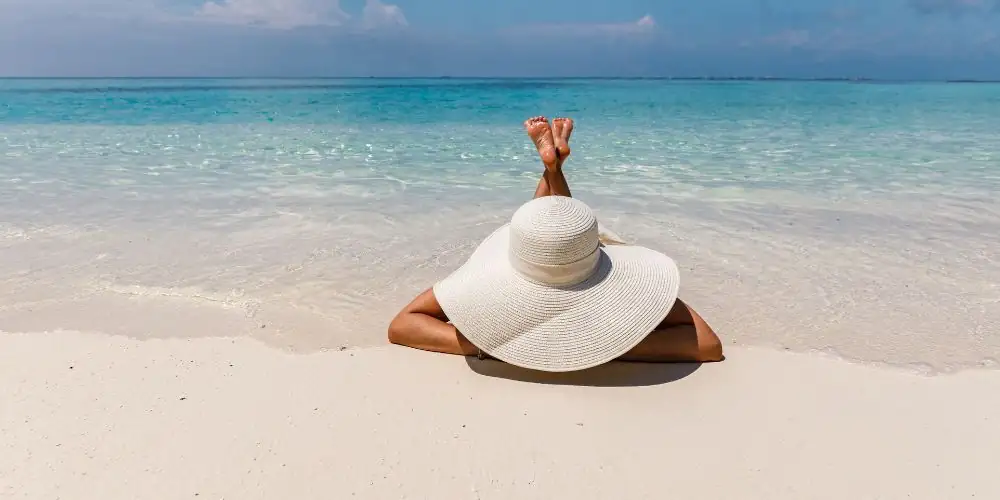 How to care for skin after sunbathing.
Sunbathing is one of the most loved summer activities. The warm rays of the sun and pleasant moments spent on the beach or in the garden are memories many of us associate with vacations. It's no wonder we eagerly await these moments every year. However, despite all the positives that come with sunbathing, it's important to remember that our skin needs special care after prolonged sun exposure. Remember that excessive sun can be harmful, leading to skin damage. That's why proper after-sun care is essential to maintain a healthy and radiant appearance all year round.
Remember to Moisturize
Sunbathing, while delivering the desired effect of sun-kissed golden skin, often leads to its dehydration. In such situations, moisturizing becomes not just an aesthetic matter, but primarily a health concern.
Healthy skin is properly hydrated skin. When it loses moisture, it becomes vulnerable to damage, accelerated aging, and loss of firmness. Well-moisturized skin forms a natural protective barrier against negative external factors, such as pollutants. Its healthy appearance and function are closely related to adequate hydration levels.
To ensure proper hydration for the skin, it's important to care for it not just externally but also from within. Regular water consumption is crucial – it's recommended to drink at least 2 liters daily. Water aids the skin's natural regenerative processes. Herbal teas, like chamomile, mint, or horsetail infusions, can additionally support hydration while providing valuable antioxidants.
External skin care involves more than just applying creams. Although moisturizing lotions and creams are foundational for skin care, it's worthwhile to also include a serum with hyaluronic acid in one's routine. Especially after sunbathing, the skin requires extra support in the form of ingredients that help it retain water. Regular use of appropriately chosen cosmetics is an investment in the health and beauty of the skin for years to come.
After-Sun Cosmetics
It's essential to use the right after-sun cosmetics that assist in regeneration, hydration, and extending the longevity of the tan.
The market offers a wide range of products designed for post-sun skin care. Among the most popular are:
After-Sun Lotions: They contain soothing and moisturizing ingredients that help the skin return to balance after sun exposure.
Cooling Milks and Cream: Perfect after prolonged sun exposure, they provide relief and counteract the burning sensation, offering a pleasant cooling effect.
Regenerating Oils: These contain a concentrate of nourishing ingredients that intensely hydrate and regenerate the skin.
The effectiveness of after-sun cosmetics largely depends on their ingredients. When looking for the right product, seek components like aloe vera, known for its soothing, regenerating, and calming properties. Its effects are excellently complemented by hyaluronic acid, which intensely moisturizes the skin.
In post-sun skin care, also leverage the power of antioxidants. Vitamin E helps repair damage caused by UV radiation, while green tea extract protects against free radicals.
Preparing the Skin for Tanning - Sun Protection
While many of us desire a tanned complexion, we cannot overlook the vital role of protection against UV radiation.
UV filters are essential to protect the skin from the harmful effects of solar radiation. UVA and UVB rays can lead to premature skin aging, sunburn, and even severe diseases such as skin cancer. That's why it's crucial to always wear sun protection.
Sunscreens not only protect against UV radiation but also help maintain a healthy tan, preventing it from drying out and premature aging. By applying sunscreen even after tanning, you provide comprehensive care for your skin, ensuring its health and beautiful appearance.
Using cosmetics with sun protection is crucial, but it's not the only way to shield ourselves. The sun, despite its many benefits, can be dangerous for our skin at certain times of the day.
The strongest UV rays occur between 10:00 am and 4:00 pm. During these hours, solar radiation is especially intense and can quickly cause sunburn. This period is when the risk of skin damage is highest, so it's especially important to protect the skin. During peak sun hours, it's recommended to stay in the shade, wear head coverings, and clothing with long sleeves. If you have to be in the sun, don't forget to use sunscreen with high UV protection and reapply it regularly, especially after swimming. Also, remember to wear sunglasses with UV filters to protect your eyes. Avoiding direct sunlight during peak hours is a simple measure that significantly reduces the risk of burns and other skin health issues.
Every moment spent in the sun can affect our skin's condition. Remember, healthy skin is beautiful skin. Let's care for it not only during the summer but all year round, so we can enjoy its radiance and health every day.