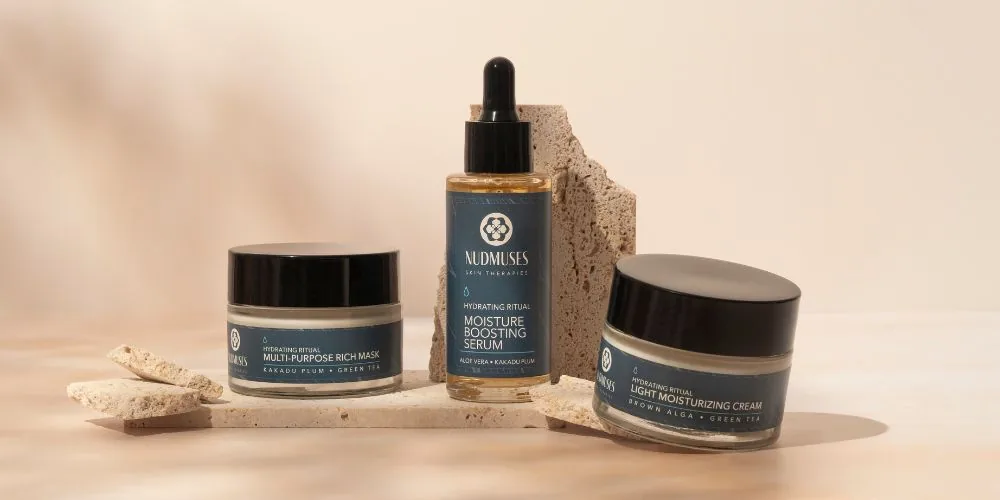 Skin regeneration after summer. How to do it?
Summer is the time when our skin is exposed to the intense effects of the sun, high temperatures, sea salt, and chlorine from pools. While these sunny days bring a lot of joy, they often result in dehydration and fatigue of the skin. Sunlight, though beneficial in moderate amounts, can lead to accelerated skin aging, discoloration, and other dermatological problems. So, how to effectively address these challenges and carry out skin regeneration after summer? In this article, we will guide you step by step on how to restore a healthy glow to your skin and properly nourish it after the vacation months.
The essence of skin regeneration after summer
Skin regeneration after summer involves restoring the proper level of hydration and balance after exposure to the sun, sea salt, wind, and other external factors. Throughout the summer months, skin often becomes dehydrated, leading to dryness, the formation of fine lines, and a loss of firmness. Additionally, the sun can cause discoloration and accelerate aging processes.
A crucial element of skin regeneration after summer is deep moisturizing care. Moisturizing not only helps compensate for skin's water loss but also strengthens its protective barrier, making the skin more resistant to harmful external factors. Products with hyaluronic acid, ceramides, or aloe vera serve this purpose perfectly, providing the skin with essential nourishing and moisturizing ingredients.
Proper skin hydration is fundamental to its regeneration. Deep moisturizing care not only restores skin comfort but also makes it more elastic, radiant, and healthy-looking. Properly moisturized skin is the foundation of its health and beauty, so after summer, it's especially important to emphasize this aspect of care.
Moisturizing care is fundamental
Hydrating the skin, especially after intense sun exposure during the summer, is key to maintaining its health and youthfulness. Properly moisturized skin is not only a comfort and relief for dry complexions but also a foundation for its elasticity, firmness, and natural glow. If you notice symptoms of a disrupted hydro-lipid barrier, such as a feeling of dryness and tightness, redness, and your skin has become hypersensitive, burning, and itching, it's vital to include deeply moisturizing products in your routine. Choosing the right skincare products is crucial for its swift regeneration. To make the right choice, pay attention to ingredients that relieve sun-exposed, dry skin.
Opt for proven moisturizing ingredients:
Hyaluronic Acid: This naturally occurring skin component can bind a significant amount of water, effectively moisturizing and preventing water loss through the epidermis. Products with hyaluronic acid improve skin elasticity and reduce fine lines. You can read more about hyaluronic acid here: Hyaluronic acid the key moisturizing in cosmetics.
Glycerin: Glycerin is another ingredient with strong moisturizing properties. It acts like a water magnet, helping retain it in the skin, ensuring a comfortable feeling. In our cosmetics you will find glycerin of plant origin.
Aloe: Known for its soothing and calming properties, aloe vera effectively regenerates irritated skin after excessive sun exposure. It has anti-inflammatory effects and speeds up the healing of minor wounds and irritations.
Vitamin E: A powerful antioxidant, it protects the skin from free radicals generated by UV radiation. Vitamin E helps combat signs of skin aging, nourishes, and restores its glow.
Which products to look for?
A well-chosen moisturizing cream provides the skin with essential nutrients, creates a protective barrier against harmful external factors, and prevents water loss. It's worth looking for creams with hyaluronic acid, which can bind water in the skin, ensuring deep hydration. Our light moisturizing cream is vegan and rich in naturally derived ingredients. In it, you'll find components that effectively soothe even the thirstiest skin. Squalane and saccharide isomerate help rebuild the skin's hydro-lipid barrier, while brown algae extract smoothens wrinkles.
Moisturizing masks are an excellent way to provide intensive treatment for skin needing regeneration and rebuilding. They offer quick and visible results, supplying nutrients in concentrated form. In your skincare routine, try the 3-in-1 mask, which you can use depending on your skin's needs as a day cream to bring out the glow in your complexion, a night cream-mask for improved elasticity and smoother complexion, or as a rescue mask for quick and intense hydration.
Lighter than cream but concentrated in action, moisturizing serums penetrate deeply into the skin, ensuring intensive care and long-lasting hydration. The Moisture Boosting Serum is a product based on moisturizing and anti-wrinkle ingredient. Apart from saccharide isomerate, aloe, or two forms of hyaluronic acid, you'll find marine exopolysaccharide (EPS Seafill), which can provide a tightening and smoothing effect in just 15 minutes.
For additional nutritional benefits in a regeneration-focused skincare routine, consider incorporating natural oils, such as jojoba oil or sweet almond oil. They excellently moisturize and leave the skin soft and smooth.
Regular moisturizing care is crucial for maintaining skin health. Thanks to it, the skin becomes more resistant to negative external factors, less susceptible to irritations, and drying out. To achieve the best results, it's essential to combine the action of various moisturizing products, adjusting them to the current needs of your complexion.
Don't Forget About Exfoliation
Exfoliation is a crucial step in the skin's regeneration process, especially after an intense summer period. Removing dead skin cells not only refreshes and smoothes the skin but also prepares it for better absorption of nutrients from skincare products.
Regular exfoliation helps combat discolorations that can appear after excessive sun exposure. As a result, the skin becomes brighter, achieves a uniform tone, and radiates a healthy glow. Moreover, by clearing blocked pores, the likelihood of imperfections is reduced. Since skin is often irritated and sensitive after summer, it's best to opt for gentle enzymatic or acid peels, which are milder than mechanical scrubs with particles. Remember not to exfoliate too often - once a week should suffice.
Keep in mind that consistent exfoliation is an investment in the health and beauty of your skin. Thanks to this procedure, your skin will be better primed to absorb the nutrients from creams and serums, and it will also look healthier and more radiant.
After summer, the skin requires intensive regeneration. Hydration is crucial, using products with hyaluronic acid, glycerin, or aloe. Exfoliation plays a significant role in renewing the complexion, restoring its shine and smoothness. Remember that the right skincare is an investment in the health and beauty of our skin. Take care of it regularly to enjoy its healthy appearance all year round. Start today and see how your skin rewards you with its natural glow and vitality!
Recommended hydrating cosmetics: